Long Island Town Declares 'State Of Emergency' To Resist NYC Mayor's Migrant Dump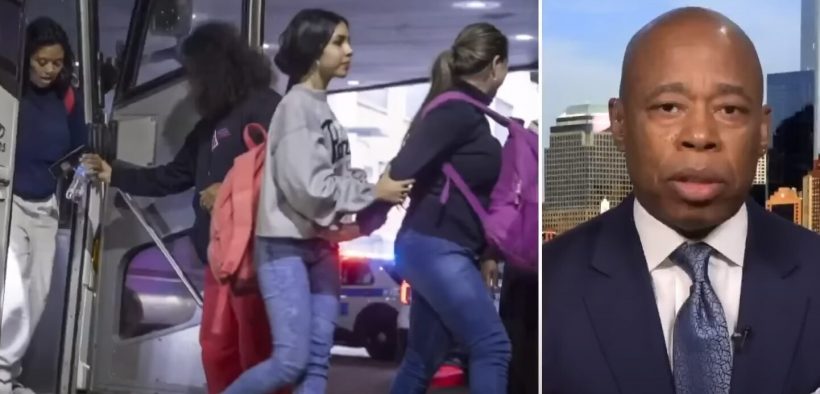 While New York City grapples with the termination of Title 42, Mayor Eric Adams, who has feuded with President Joe Biden over the border crisis, reportedly arranged to shuttle migrants to eastern Long Island only to be stonewalled by Republicans.
Democrats of the so-called sanctuary city have tried to ship migrants to the two counties of Long Island before, particularly unaccompanied minors, with Suffolk County being ranked sixth in the nation in 2021 for its accumulated share.
On May 16, Riverhead Township Supervisor Yvette Aguiar declared a state of emergency after Adams reportedly issued a request for housing facilities in Suffolk to house the migrants. Adams added that the city would pay for up to a year of housing.
Aguiar said three Riverhead facilities have agreed. She said she did not know which facilities agreed, but that housing migrants was a code violation. Officials said the New York City Department of Homeless Services was making agreements on the relocation of migrants to hotels and motels within the town.
Aguiar then told the outlet she wrote an executive order to prevent the heavy influx.
"Relative to the surrounding townships on the East End and throughout Suffolk County, Riverhead has done more than its share when it comes to housing the homeless, providing services and officering affordable housing, and our resources and taxpayers simply cannot withstand further demand on our public services," read the order.
"It's a federal problem, it's a New York City problem, and don't bring it to Suffolk County. We are not capable," Aguiar told CBS News.
Riverhead's state of emergency under executive order maintains that "all hotels, motels, bed and breakfast facilities, inns, cottages, campgrounds or any other transient lodging units and/or facilities allowing short term rentals do not accept said migrants and/or asylum seekers for housing." Violation of the order
Continue Reading at The Federalist.