Futures, Bitcoin Crater As Yields And Dollar Surge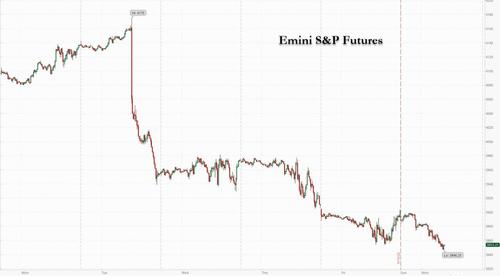 Futures, Bitcoin Crater As Yields And Dollar Surge
After a dismal week for risk assets, which saw equities drop the most since June 17, global markets and US equity futures are tumbling in another extremely illiquid session (Japan and UK are both closed, the latter for the state funeral of QE2) as the realization sparked by Fedex that the world is in a global recession, is starting to finally seep through. Add to that Wednesday's 75bps rate hike by the Fed (which however is more than priced in by now) as well as the previously discussed start of the buyback blackout period, and CTAs and pensions becoming forced sellers with investor sentiment that can at best be described as pervasive record doom and gloom, and it becomes clear why this week could be an even bigger bloodbath for stocks.
And sure enough, Nasdaq contracts have tumbled 1.2% as S&P futures are down 1.0%…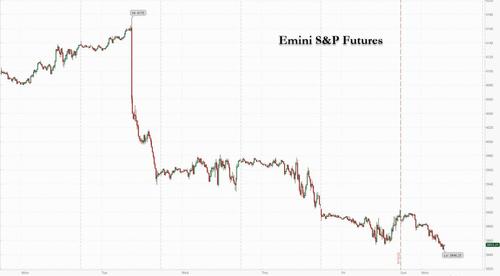 …the dollar is back into record territory, with rumors of a new imminent plaza accord growing louder by the day…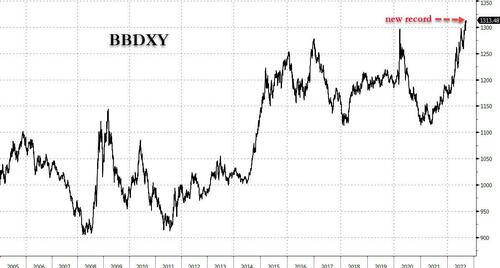 … 10Y yields are just shy of 3.50%, hitting a new post-2011 high this morning…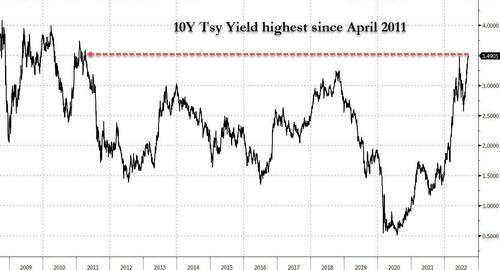 … which in turn is hammering European and Asian markets, as oil plunges in response to the fresh highs in the dollar.
In permarket trading, tech shares are lower and poised to extend last week's decline, as investors expect the Fed to deliver a 75bps rate hike when it meets on Wednesday, putting pressure on pricier growth stocks. Tesla (TSLA US) -1.4%, Google (GOOGL US) -1.2%. Here
Continue reading Futures, Bitcoin Crater As Yields And Dollar Surge at ZeroHedge.