The people want DeSantis to run. The FEC stands in their way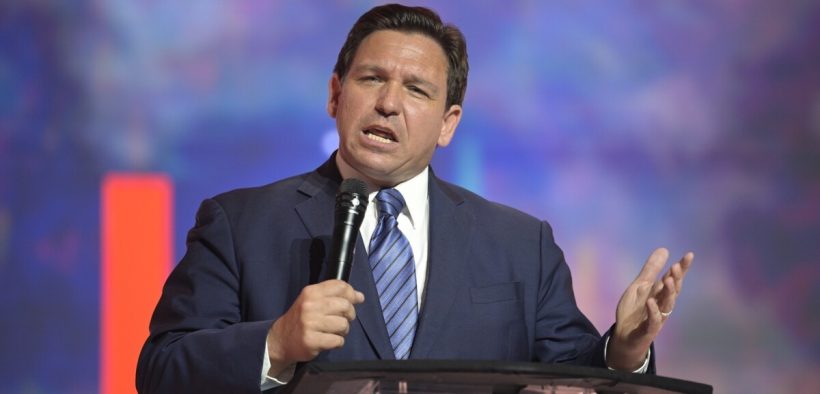 Millions of people, myself included, are ready for Florida Gov.
Ron DeSantis
to run in 2024 and become the next great U.S. president. These are exciting times for all of us hoping to get America back on track after President Joe Biden's endless Carter-esque failures.
Not only does DeSantis's approval rating hover around 60% in his home state, which would choose him in a 2024 Republican primary, but he would also beat Biden, Vice President Kamala Harris, or any other Democratic candidate if the presidential election were held today. Heck, even CNN has praised his governing strategy.
But there's a thorn in our side: the Federal Election Commission. Washington's notoriously partisan campaign finance watchdog is attempting to stop those who support DeSantis from mobilizing to draft him to run for president. The FEC is trying to prevent every single person from engaging in the most basic form of political speech: telling someone they should run for office.
This grassroots effort, which I advise, is the political action committee called Ready for Ron. Our goal is to bring together one million people to persuade DeSantis to run for president.
We have already collected tens of thousands of petition signatures asking DeSantis to run. Signing petitions — for and against legislation, calling for this or that redress of grievances, or seeking to support or oppose any candidate — is the purest form of grassroots organizing. It's the backbone of democracy.
People are simply banding together to tell a leader they believe in that they want him to run. And which dark arts are being used to do so? Ready for Ron is circulating a petition and asking those who share its vision of a DeSantis presidency to sign it. A petition! What calamity!
Our grassroots effort is nothing more than an exercise of free speech and free association. Those same freedoms fueled the political ambitions of every single presidential candidate — from Joe Biden to Donald Trump to Barack Obama. But when that petition suddenly involves beating Biden in 2024, the federal government's limitless bureaucracy must crush it.
Certain members of the FEC are trying to make it more difficult for people to come together and let the Florida governor know they want to see a President Ron DeSantis. FEC Democrats, certainly unmotivated by how badly he'd beat Biden, are claiming people now have no right to associate together, compiling their own names and contact information to encourage someone to run for office.
In fact, the Democrats' position has effectively become: "You cannot even talk to someone about them running without them — and you — being subject to all 70,000 pages of federal election law, regulation, and administrative precedent."
Ironically, the same Democrats who approve of ActBlue spending millions of dollars and raising billions more for candidates while passing on actual donor information now aren't allowing Republicans to pass along their names and general interest in supporting a potential candidate, without money even being involved. To Democrats, your speech isn't free; you have to chip in at least $1 or else be silenced. That's how desperate the Left is to protect Biden, torture logic and precedent, and find any excuse to stop DeSantis.
I recently challenged that nonsense before the FEC to make our case. It's a tough case — that the Constitution protects our rights, and that nothing in statutes, regulations, or case law remotely empowers the FEC to stand in our way. Fortunately, we stopped the FEC's adoption of the Left's radical, unconstitutional ideas and reaffirmed Ready for Ron's core mandate — for now.
The fight goes on, with a new FEC effort driven by speech-suppressing Democrats taking place over the next two weeks as a final ruling is debated.
It is not the FEC's right to dictate what people can and cannot think, say, or do when they're exercising their constitutional rights. The agency has a duty to enforce the campaign finance laws on the books, but FEC bureaucrats have no right to create amorphous standards and issue nebulous guidelines that change with the wind and the political affiliation of people in power.
Constitutional rights are not subject to the ever-changing whims of unelected federal officials. That goes for individuals and for the organizations they band together to form and communicate through to exercise their rights, such as Ready for Ron.
We will continue fighting for everyone's rights. We will continue fighting back against those at the FEC seeking to deny your freedoms. And we will continue fighting to draft Ron DeSantis, beat Joe Biden in 2024, and save America.
Americans are ready for Ron, and nothing will stand in their way — especially not the FEC.
Dan Backer is a veteran campaign counsel, having worked for more than 100 candidates and PACs, including two of the largest pro-Trump super PACs.
Continue Reading at The Washington Examiner.