Futures Flat With S&P On Cusp Of Bull Market, Oil Jumps After OPEC Production Cut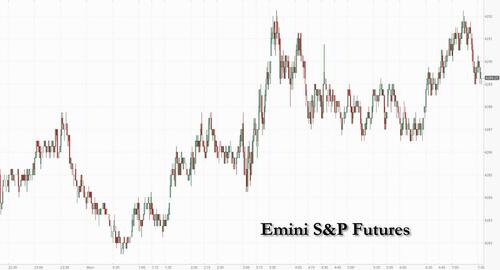 Futures Flat With S&P On Cusp Of Bull Market, Oil Jumps After OPEC Production Cut
Futures are flat with oil jumping after OPEC+ cut output by an extra 1mm bpd in a unilateral move by Saudi Arabia taking its production to the lowest level for several years.At 7:30am ET, S&P futures were flat, while Nasdaq futures were down 0.2% with some artificial-intelligence exposed stocks like Nvidia Corp. and C3.ai Inc. trading down. In contrast, Apple Inc. surpassed its previous closing record in premarket ahead of what's expected to be its most significant product launch event in nearly a decade. Oil rose 2%, with oil giants such as Chevron and Exxon up in premarket trading. The Bloomberg dollar index is up as are 10Y yields now that the market's attention turns to the $1+ trillion deluge in new debt issuance. Gold dropped, as did bitcoin after the crypto currency got its usual Asian session rugpull.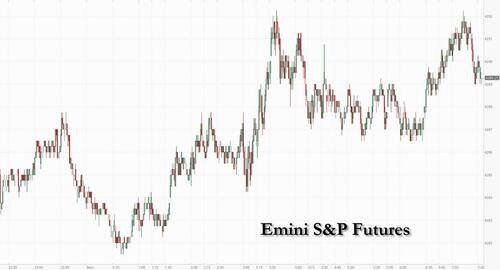 Oil-related stocks rose in US premarket trading after Saudi Arabia announced it would scale back oil output by a further 1 million barrels a day in July, taking the OPEC+ member's production to the lowest level for several years after a slide in crude prices. Saudi Energy Minister Prince Abdulaziz bin Salman said he "will do whatever is necessary to bring stability to this market"; with oil prices being weighed down by relentless shorting by hedge funds amid a softer economic outlook.  The rest of the 23-nation OPEC+ group offered no additional action to buttress the current market, but did pledge to maintain their existing cuts until the end of 2024. Chevron, Exxon Mobil and Occidental Petroleum all rise more than 1%, as do Phillips 66 and Schlumberger.
Also in premarket trading, Apple
Continue reading Futures Flat With S&P On Cusp Of Bull Market, Oil Jumps After OPEC Production Cut at ZeroHedge.