How much longer must we pretend Democrats are reasonable?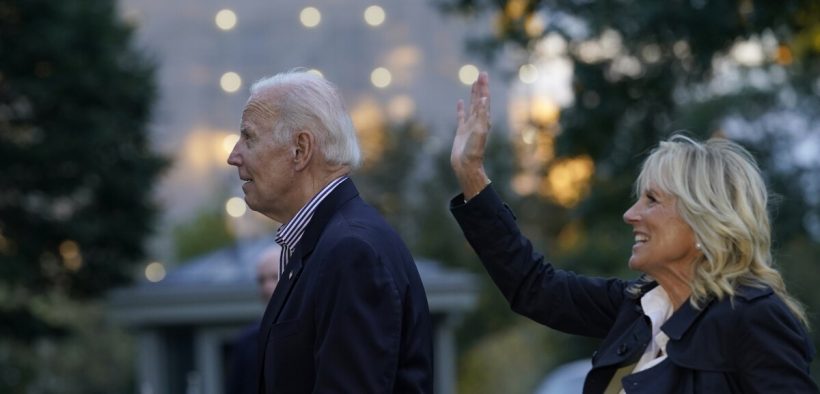 Buried deep in a recent New York Times puff piece about first lady
Jill Biden
was a remarkably revealing anecdote. Following a nearly two-hour press conference in January, President
Joe Biden
was speaking to several senior staffers in the White House Treaty Room. In addition to the stumbling and bumbling we've grown accustomed to in Biden's public appearances, he'd made several reckless statements about Russia's then-imminent invasion of Ukraine that administration officials had to scramble to walk back.
One of the staffers in the room later told the New York Times that the first lady appeared and "demanded" to know why no one had intervened to end the press conference earlier. The staffer said she was very upset and wanted to know "who was supposed to end the news conference."
One might expect a U.S. president to be able to run a press conference without detailed directions from his aides, but then again, America had never elected a leader who showed obvious signs of cognitive decline well before he stepped foot in the White House.
Our commander in chief is being micromanaged, with the lion's share of the "handling" falling on Jill Biden's shoulders — as it should. After all, it's what she signed up for. She encouraged him to run, knowing full well that his age and health might affect his ability to do the job.
That said, his staffers are also part of the effort to hide Biden from the public. Evidence of their efforts to cover up his waning cognitive capacity is piling up fast. For example, during a
White House
meeting in June, a camera happened to catch a small notecard in Biden's hand. An
enlargement of the photo
showed the card contained a series of instructions for him to follow. The first read, "YOU enter the Roosevelt Room and say hello to participants." The second said, "YOU take YOUR seat." And so on.
Another instance occurred during a September visit to the British Embassy in Washington, where Biden had gone
to sign the condolence book
for the late Queen Elizabeth II. Rather than composing his own heartfelt message, he pulled out a type-written notecard, surely prepared by an aide, and copied the contents into the book.
One of the most shocking incidents came several weeks later. Speaking at the White House Conference on Hunger, Nutrition and Health in late September, Biden called out for the late Rep. Jackie Walorski (R-IN). He
said
, "Jackie, are you here? Where's Jackie?" Pressed for a comment on Biden's extraordinary lapse, White House press secretary Karine Jean-Pierre
insisted
it was only because Walorski had been "top of [the President's] mind."
From the moment Biden launched his campaign in April 2019, it was apparent he lacked the cognitive capacity he'd possessed throughout his long political career. Yes, he's always been known to make colossal gaffes, but this is something different. Before, he could speak to people extemporaneously and fluidly. Now, he loses his train of thought, stumbles over, and even slurs his words.
It's not just his age. We all know 90-year-olds who are as sharp as tacks. There is something else going on here, but no one in the
Democratic Party
is willing to admit it. Democrats' allies in the media also continue to act as if the problem doesn't exist, hoping that everyone else will pretend with them.
Even when the
New York Times
shocked readers in June with an article that questioned whether Biden would physically be able to run again in 2024, they cited his age, but not his condition. The article
quotes
political strategist David Axelrod: "The presidency is a monstrously taxing job and the stark reality is the president would be closer to 90 than 80 at the end of a second term, and that would be a major issue."
But as Biden's condition deteriorates, it's become impossible to hide. And there are disastrous implications for the strength and stability of the country.
How much longer will Democrats pretend that this is reasonable? And when will the public finally realize that it's the Democratic Party's fault for putting Biden in office in the first place?

CLICK HERE TO READ MORE FROM RESTORING AMERICA

Elizabeth Stauffer is a contributor to the
Washington Examiner
and the
Western Journal
. Her articles have appeared at MSN, RedState, Newsmax, the Federalist, and RealClearPolitics. Follow her on 
Twitter
 or 
LinkedIn
.
Continue Reading at The Washington Examiner.