Left-wing immigration groups demand end to detentions as Title 42 policies expire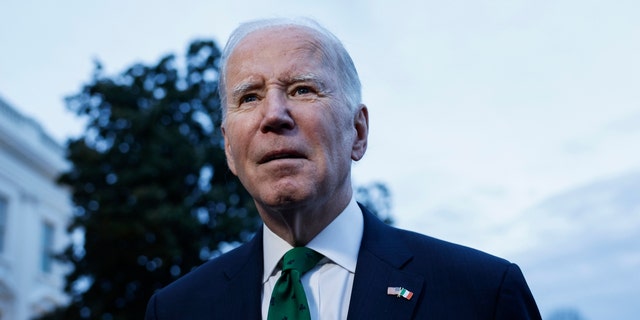 Liberal organizations are pressuring President Biden to refrain from enforcing tough immigration policies that they liken to those imposed by the Trump administration once the Title 42 border policy expires Thursday.
The Biden administration has made a series of immigration moves in recent weeks to counter an expected wave of migrants to the southern border once Title 42 policies end – those polices allowed the U.S. to turn migrants away at the border in order to reduce the risk of spreading COVID.
In response, more than 200 liberal groups sent a statement to Biden last week to demand that his administration put an end to Immigration and Customs Enforcement detention policies that they said currently allow about 25,500 migrants to be held.
"The undersigned 233 organizations call on the Biden administration to live up to its promise of creating a more humane immigration system by ensuring asylum seekers and other migrants are not placed behind bars in immigration detention as Title 42 is lifted," the organizations stated. "Our organizations are in solidarity with immigrant communities and asylum seekers, and urge the Biden administration to abandon policies that undermine their dignity, livelihoods, and human rights."
The Biden administration confirmed last week that it would send 1,500 military personnel to the border to help manage mass migration at the end of Title 42. Jennie Murray, president and CEO of the National Immigration Forum, said the focus should be to send additional asylum officers and immigration judges, not troops.
"Sending troops to the border is not the answer," Murray said last week. "We've seen this before, and it has been ineffective and impractical. It also sends the message that migrants are a threat, when the vast majority are seeking safety."
The White House did not respond to a request for comment.
Alejandro Mayorkas, secretary of the Department of Homeland Security, said in a Wednesday press conference that the border will not be open after the end of Title 42. Government officials, he said, will not hesitate to detain migrants who refuse to turn back at the border.
"The vast majority will be addressed in our border patrol facilities and ICE detention facilities," Mayorkas said.
Biden has long promised to end Title 42 — a move backed by liberal immigration groups from the onset of his campaign. But these same organizations have likened the Biden administration's proposed immigration plans to be implemented after Title 42 as an echo of the Trump administration.
One specific complaint is what many groups, such as the American Civil Liberties Union (ACLU) and Human Rights Watch, refer to as an "asylum ban" from the White House. The plan, laid out in February, severely limits asylum qualifications for migrants, with some exceptions for those from specific countries who arrange appointments in advance.
Katrina Eiland, managing attorney for the ACLU's Immigrants' Rights Project, described Biden's plan as a combination of two proposed policies from the Trump administration: one that banned asylum for migrants who did not enter through an official border crossing, and another that banned asylum for migrants who traveled through a third country without trying to seek asylum there first.
"So essentially what Biden is now trying to do is combine these two asylum bans that the Trump administration had tried to put in place, both of which were blocked by courts and, you know, add some window dressing, and then claim that it's a different policy," Eiland said Friday on an ACLU podcast.
Continue Reading at Fox News.