Liberal Disinfo: New York Times Corrects 'Racist' BYU Hoax It Should Never Have Spread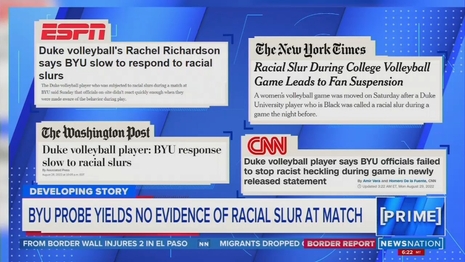 An August 26 women's college volleyball match between Duke University and Brigham Young University in Utah was allegedly marred by a racist BYU fan yelling racist slurs at a black Duke player, according to her father.
The only problem: It evidently didn't happen, though that didn't stop BYU from banning a fan falsely accused of shouting the slurs. Now Brigham Young's comprehensive investigation uncovered no evidence that the incident ever happened. (None of the 5,500 spectators in attendance heard anything either.)
Yet the Times, so sensitive to right-wing "misinformation" during the Trump era and beyond, wasted no time jumping on the original allegations, not bothering to confirm the story on its own before spouting it off as truth in a breathless piece bylined from Vimal Patel, assuming the truth of the nasty accusation with no evidence.
The online headline deck to the August 27 story read: "Racial Slur During College Volleyball Game Leads to Fan Suspension — A women's volleyball game was moved on Saturday after a Duke University player who is Black was called a racial slur during a game the night before." (This story apparently did not appear in print, only online.)
A Duke University women's volleyball player who is Black was called a racial slur during a game Friday night in Utah, prompting Brigham Young University to ban a fan from sporting events and Duke University to change the venue of a tournament game on Saturday.

Marvin Richardson, the father of the Duke volleyball player, said in an interview late Saturday that a slur was repeatedly yelled from the stands as his daughter was serving, making her fear "the raucous crowd" could grow violent.
Reporter Amanda Holpuch's follow-up several days later noted no evidence of racism had been found, but she still wrote as if certain the incident occurred.
Brigham Young University said Tuesday that it was still investigating who was responsible for the racist slurs and threats that a Black player for Duke University's women's volleyball team said were directed at her at a match on Aug. 26.
The Times let the alleged target of the slurs, Duke volleyball player Rachel Richardson, step into the footsteps of her father's accusations and paint a picture of a near-riot in the stands.
Two days after the game, Richardson, a sophomore, said in a statement posted on Twitter that she and her African American teammates were "targeted and racially heckled throughout the entirety of the match."

She said the heckling grew into threats and that the B.Y.U. coaching staff and officials "failed to take the necessary steps to stop the unacceptable behavior and create a safe environment" after the problem was raised.
Holpuch even played the race card against BYU.
The B.Y.U. campus is predominantly white and Mormon. Less than 1 percent of the student population is Black, and many students of color "feel unsafe and isolated" at the school, according to a February 2021 report by a university committee that studied race on campus.

Black Menaces, a group founded by Black students at B.Y.U. that uses social media to discuss racism on college campuses, said they were disturbed by a "lack of action" from people at the game. "Out of the 5,000 people in attendance, no one had the bravery or courage to denounce pure racism," the group said in a statement.
Perhaps because it didn't actually take place?
Holpuch's debunking article made it into print on Saturday, but was relegated to an inside page of the Sports section: "No Evidence of Racism Claim Is Found by B.Y.U.'s Inquiry."
At least the Times eventually updated its bad reporting, unlike many outlets.
Continue Reading at Newsbusters.