"Miserable" 20Y JGB Auction Tails Most Since 1987, Adding To Bond Gloom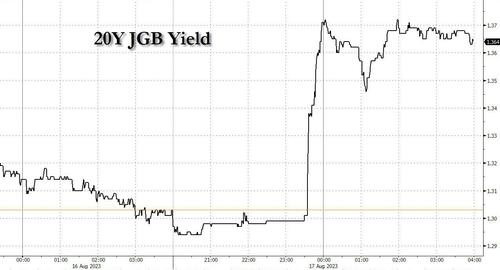 "Miserable" 20Y JGB Auction Tails Most Since 1987, Adding To Bond Gloom
This morning global bond yields hitting a 15 year high, a move that was catalyzed by what Bloomberg dubbed a "miserable" 20 year auction, which priced with the longest tail – or the difference between average and cut-off prices – since 1987, while the bid-to-cover ratio fell to the lowest since September.
The Ministry of Finance sold about 992.5 billion yen ($6.78 billion) of the bond at an average yield of 1.322%, with the yield at 1.385% for the lowest accepted price. The dismal reception promptly sent yields to the highest level since January.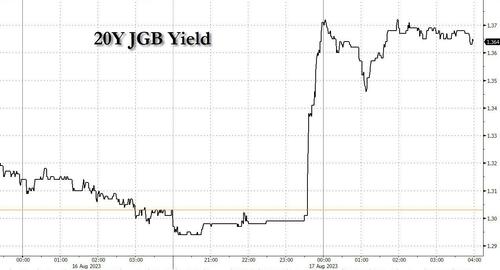 Traders pointed to huge tail as well as the low 2.8 bid-to-cover ratio for this bond, compared with the strong 3.5 ratio at last week's 30-year auction as the reason for the rise in yields.
The results of the auction came as a "surprise," said Shoki Omori, chief desk strategist at Mizuho Securities, with demand coming in extremely weak. Omori said the 20-year bond was an outlier because of the absence of a defined buyer profile and that most people with short positions in JGBs had bought before the auction.
"The buyers for the 30-year bonds were mainly life insurers, which had been steadily buying 30-year bonds (before the auction," said Kaoru Shoji, Japan rates strategist at SMBC Nikko Securities.
"On the other hand, banks and pension funds were the main players in the 20-year bond auction. For them, the current level might not be cheap enough as yields may rise further as U.S Treasury yields are rising, and there is speculation that the BOJ may end its negative-rate policy."
Yields on other tenors inched up too. The five-year
Continue reading "Miserable" 20Y JGB Auction Tails Most Since 1987, Adding To Bond Gloom at ZeroHedge.