PBS, NPR Act Like Democrat Team Members in Live Coverage AND Bias By Omission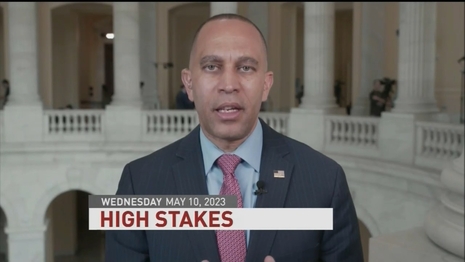 In the last Congress, PBS and NPR enthusiastically broadcast every moment of live coverage requested by Nancy Pelosi's "Select Committee on the January 6 Attack." But in 2023, they won't offer live coverage of Republican-led events. In fact, they often ignore them altogether.
On Wednesday morning, House Oversight Committee chairman James Comer held a dramatic press conference to release new bank records showing how President Biden's family was awarded millions in foreign payments while he was Vice President. Not only did PBS and NPR skip live coverage, they skipped all coverage — including "Week in Review" packages on PBS NewsHour and NPR's Weekend Edition Saturday, as well as Washington Week on PBS.
On the NewsHour on Wednesday night, co-host Geoff Bennett even conducted an eight-minute interview with House Democrat leader Hakeem Jeffries, and there was no question on the Biden financial scandals. Instead, questions like this:
BENNETT: This is your first time on the NewsHour in your capacity as House Democratic leader. And I want to take the occasion to ask you, one, how you view your role, and, two, what Democrats hope to achieve even while in the minority right now.
Back in March, we noted PBS and NPR audaciously ignored when the Senate Judiciary Committee held its first hearing of the new Congress with Attorney General Merrick Garland, despite a dramatic grilling by Senate Republicans…or because of it.
But on May 2, the same Senate Judiciary Committee held a hearing into the ethics of federal judges, especially Supreme Court Justice Thomas. On that night, the PBS NewsHour devoted almost ningt minutes to that event, summarized under the loaded transcript headline "Senate probes Supreme Court ethics after questionable financial dealings by justices." PBS at least mentioned liberal former Justice Ruth Bader Ginsburg, briefly referencing her outburst against then-candidate Donald Trump in 2016 as an example of lack of impartiality.
They touted a recent PBS/NPR/Marist poll, finding more than six in 10 Americans said they have little to no confidence in the court.
PBS added more Thomas "scrutiny" as the leadoff topic on their May 5 "week in review" segment. Jonathan Capehart unconvincingly claimed all this Democrat effort wasn't about partisanship.
Democrats on the Senate Judiciary Committee pounced on overhyped media reports, regarding alleged financial ethics scandals committed by conservative Supreme Court justices, as a pretext to hold hearings.
NPR legal reporter Nina Totenberg obliged, with full coverage on Tuesday's Morning Edition program. A text edition of Totenberg's report showed her taking the partisan Democratic stunt quite seriously. Just as she tried to destroy Clarence Thomas during his confirmation hearings in 1991 with Anita Hill's unsubstantiated claims of sexual harassment, Totenberg is still implying Thomas is too unethical for the high court.
Even as Roberts' letter to Durbin was released last week, news reports continued to disclose more new information about the conduct of some justices — conduct that ranged from flat-out defiance of financial disclosure rules, to allegations that some court critics imply are shady, and others see as perfectly proper.

Ethics experts continue to see the behavior of Justice Clarence Thomas as the most problematic on several fronts. Most recently, ProPublica disclosed that Republican megadonor Harlan Crow had for decades treated Thomas and his wife to free jet travel, yacht trips and other lavish vacations at which Thomas often intermingled with corporate leaders and political operators. Most importantly, Thomas did not disclose any of this on his financial disclosure forms, nor did he disclose that Crow had purchased three properties in Georgia from Thomas, including one in which Thomas' mother lives.
The Wall Street Journal didn't think much of ProPublica's expose (subscription required).
Totenberg ranged far and wide to collect Supreme scandalettes, actual underlying impropriety or not, such as the Antonin Scalia School of Law at George Mason University "luring four conservative justices" to teach "at flossy European tourist meccas." The scandal is what's legal, evidently:
Left out of NPR's reporting were any reference to questions about liberal justices. (Totenberg was a great personal friend to former Justice Ginsburg, flaunting media ethics along the way.)
Continue Reading at Newsbusters.