The Black Old Deal: Global Coal Demand Hits All Time High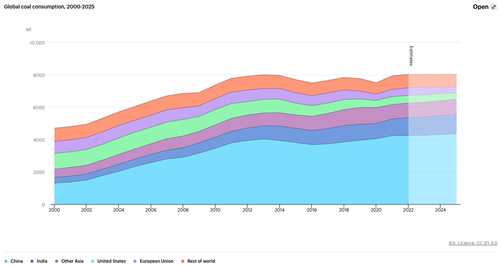 The Black Old Deal: Global Coal Demand Hits All Time High
As the new and improved – not to mention far easier on the eyes – UN climate change advisor Sophia Kianni, aka Greta 2.0, is busy warming up the cover and red carpet of Forbes magazine as the 20-year-old criss-crosses the world, her carbon footprint be damned…
Thank you for having me @Forbes ♥️ pic.twitter.com/N2y5ndQ9JP
— Sophia Kianni (@SophiaKianni) December 16, 2022
… the sexy distraction has achieved its goals and while the world was ogling the new sex symbol of climate warfare, at a time when progressives are frothing at the mouth at any mention of global warming (which however won't stop them from replacing their Tesla with an F-150 to own Musk) the International Energy Agency just reported that global coal demand is set to reach a record high this year.
In its "Coal 2022" report published Friday, the IEA reported that coal consumption rose by 1.2% in 2022, surpassing 8 billion tons in a single year and topping the previous record set in 2013.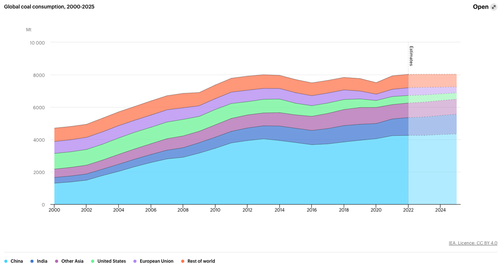 "This means coal will continue to be the global energy system's largest single source of carbon dioxide emissions by far," IEA said, despite climate alarmists' failed attempts to kill the coal industry as it was revived to stave off an energy crisis in Europe, Asia, and elsewhere.
"Higher natural gas prices amid the global energy crisis have led to increased reliance on coal for generating power," IEA explained.
The report forecasts coal consumption will remain at elevated levels through 2025. 
For me, more important that the fresh demand record high is the shape of the demand curve — rather than a peak-cliff, coal is
Continue reading The Black Old Deal: Global Coal Demand Hits All Time High at ZeroHedge.