The Whole 'McHenry Kicks Pelosi out of Her Hideaway Office' Story Gets Even More Amusing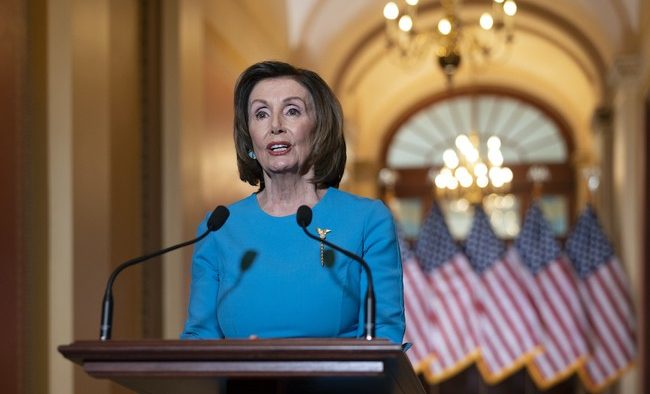 We wrote earlier about how one of the first orders of business for speaker pro tempore Patrick McHenry (R-N.C.) in the aftermath of the House's ousting of Kevin McCarthy (R-Calif.) as Speaker was to notify former House Speaker Nancy Pelosi (D-Calif.) that she needed to immediately remove her things and vacate her hideaway office.
Also, according to reports, an email sent from a House Administration Committee aide indicated the room was being redesignated "for speaker office use."
Naturally, the move prompted some wailing from Pelosi, who proclaimed that the decision was "a sharp departure from tradition." It was kind of an ironic statement to make considering, as my colleague Bonchie noted, ousting a House Speaker – which Pelosi's fellow Democrats ultimately supported even after she allegedly told McCarthy prior to him becoming Speaker she would push back against such a move – is quite a departure from tradition as well.
In an update to this story, we're learning that it wasn't McHenry but McCarthy himself who was behind the call to get Pelosi kicked out of her hideaway office, something few on the House side have outside of high-ranking members. Further, the person who will be utilizing that office will be … McCarthy:
Kevin McCarthy was behind interim Speaker Patrick McHenry's move to kick former House Speaker Nancy Pelosi and former Majority Leader Steny Hoyer out of their office spaces, two Republican sources told CNN.

GOP Rep. Garret Graves told reporters on Wednesday that McCarthy is getting the office that McHenry has ordered her to vacate.

"Look the deal is that the office that Pelosi is in right now is the office of the preceding speaker. Speaker Pelosi and other Democrats determined that they wanted a new … speaker, and it's Kevin McCarthy. So, he's getting the office," he said.
Rep. Steny Hoyer (D-Md.), who has also held various leadership positions in the House in the majority and the minority, was reportedly also told to move out of his hideaway office.
CNN's Jake Tapper and one of the network reporters who broke the story about McCarthy's involvement were clearly saddened and upset by the news because of course, they were:
I'm not sure what's more amusing here – learning that McCarthy was behind it and is in fact moving into that office or the fact that the media has gone all sad trombone about it.
Regardless of what one might think of McCarthy's leadership of the House, I think few Republicans would disagree that paying Pelosi back for allegedly going back on her word to "have his back" on something like what happened this week is actually a beast mode sort of move.
Continue Reading at Red State.