What Are The Risks To Oil Markets From Recent Developments In Russia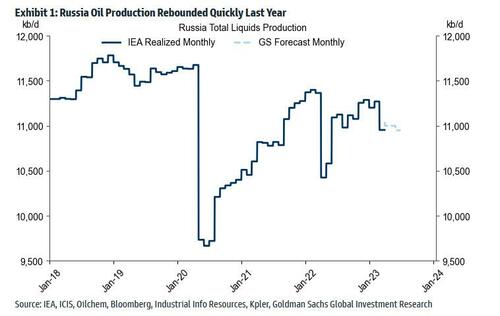 What Are The Risks To Oil Markets From Recent Developments In Russia
The dramatic events over the weekend in Russia were – at least to the commodity traders – a stark reminder of the importance of grasping the risks to Russia oil supply associated with potential domestic upheaval. To address those, and other questions, Goldman's commodity team  discusses the history of supply shocks, the risks to oil infrastructure, and the potential effects on oil prices in Q&A format.
First, some big picture observations:
Russian oil output rebounded quickly last summer after a brief drop during the spring. A broader review suggests that persistent and substantial shocks to oil supply have historically arisen because of significant domestic civil unrest or because of the destruction of key oil infrastructure in a military conflict.
While there is no disruption to oil flows at present, it is worth noting that the Baltic Sea and the Black Sea are Russia's major export hubs for seaborne oil, and that the Wagner group also has some presence around oil facilities in Libya.
While Goldman does not expect a very large impact on oil prices from this weekend's failed coup, markets may price a moderately higher probability that domestic volatility in Russia leads to supply disruptions or has a sizable negative impact on oil supply at some point in the future. That said, the impact may be limited because oil markets are often focused on spot fundamentals, which have not changed, and because any hits to financial risk sentiment or to oil demand from increased uncertainty may provide an offset.
Below, we excerpt the full details from the bank's Q&A:
The History of Supply Shocks
Q1. Why did Russia production briefly drop in 2022?
Russian total liquids production dropped by around 1mb/d
Continue reading What Are The Risks To Oil Markets From Recent Developments In Russia at ZeroHedge.