Biden Finally Speaks on Wagner Rebellion After Weekend in Camp David With Hunter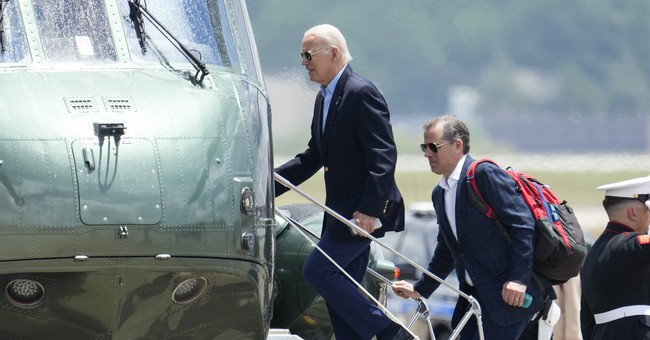 Joe Biden finally got around to addressing the Wagner PMC group rebellion in Russia for the first time on Monday.
The fighting got underway on Friday, as we reported, with Yevgeny Prigoshin stating his goals and then taking Rostov. Yet it took Biden until Monday to publicly address it. By the time Biden got around to addressing it, the rebellion was, for all intents and purposes, over. Forget the 3 a.m. calls, it takes him days to respond on such incredibly important matters, as we saw both with the fall of Afghanistan to the Taliban and now this chaotic event that could have placed a nuclear power in question. He was on one of his many vacations when the spit hit the spam in Afghanistan and again, we didn't hear any official live statement from him until he came back from his weekend away.
Where was he over this past weekend? As we reported, he was with his son Hunter at Camp David.
Hunter boarded the Marine helicopter with Joe and a big bag. Many speculated that they were going to be discussing the Biden foreign dealings scandal, which has only deepened with what the IRS whistleblowers have revealed. At Camp David, it's a lot more private to meet with people than at the White House if, for instance, they wanted to meet with anyone like advisors or lawyers on the matter. National Security Advisor Jake Sullivan was also at Camp David with them over the weekend.
Biden claimed that he asked for updates on the hour throughout the weekend and had meetings with allies on the situation in Russia. He also said his top priority was to establish that the U.S. and NATO had "nothing to do with it."
They agreed with me that we had to make sure…we gave Putin no excuse to blame this on the West, to blame this on NATO. We made clear that we were not involved. We had nothing to do with it. This was part of a struggle within Russian system.

I also talked at length with President [Volodymyr] Zelenskyy of Ukraine. We'll be keeping in contact with him and maybe speaking to him later today," Biden continued. "I told him that no matter what happened in Russia, we the United States will continue to support Ukraine's defense and its sovereignty and its territorial integrity.
Biden said they were still trying to assess what had occurred, he said they couldn't reach a "conclusion" about where all this was going, but he stressed they continued to support Ukraine.
So, here's the thing: When you're the alleged leader of the free world, you don't wait days to make an official statement on a matter of such import, particularly not when you've taken off in the middle of a scandal with your son. It tends to make people believe that your priorities aren't where they should be, but are rather on trying to defend yourself from the scandal and what might be coming next. He's playing catch up now, but he was missing from view, once again, when the action went down.
Continue Reading at Red State.