Group backing Ron DeSantis to spend $3.3M to make him the Republican nominee over Donald Trump in 2024: report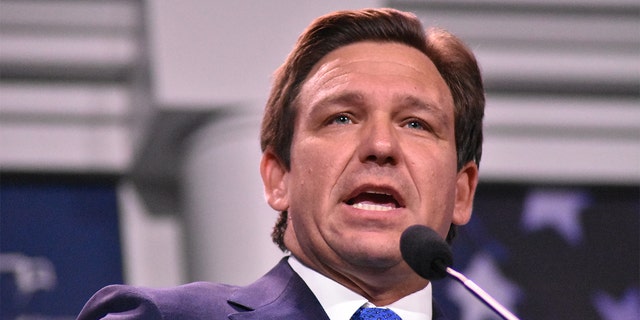 According to a report, a group is set to spend $3.3 million over the next six months to help get Florida Gov. Ron DeSantis to run for the presidency in 2024.
According to the Financial Times, the political action committee Ready for Ron is expected to officially file with the Federal Election Commission on Thursday that it intends to spend $2.3 million in television ads and another $1 million in other promotions and expenditures for the election.
DeSantis has emerged as a frontrunner for the next presidential election as some Republicans want to move on from former President Trump and see the Florida governor as the best viable candidate to take on President Biden.
"America is in grave danger from the Radical Left and their failed, socialist, woke policies," the Ready for Ron website reads. "The America-First agenda MUST be revived. Governor Ron DeSantis is the next Great American President – like Ronald Reagan and Donald Trump – who will turn our country around."
The website includes a petition supporters can sign to encourage DeSantis to run for the presidency.
Trump has officially declared his intention to seek the Republican nomination for 2024, while DeSantis has not.
Other potential Republican candidates who have expressed interest in the White House include former Vice President Mike Pence; former CIA director and Secretary of State Mike Pompeo; former UN Ambassador and South Carolina Gov. Nikki Haley; and South Dakota Gov. Kristi Noem.
Sen. Ted Cruz of Texas, who ran for the GOP nomination in 2016 when he was among the final candidates before losing to Trump, is also a name tossed around in conservative circles. Sens. Tim Scott of South Carolina and Rick Scott of Florida also have some support.
Gov. Glenn Youngkin, a political outsider who flipped the Virginia governor's mansion in 2021 from blue to red for the first time since 2014, has also garnered national attention.
DeSantis has eclipsed Trump in some 2024 polling — while losing out in others — and no other candidate gets remotely close to their levels of support. DeSantis also beats President Biden in some polls.
The Florida governor also has a memoir titled "The Courage to Be Free: Florida's Blueprint for America's Revival" set to publish next month.
Trump has said he is confident of winning the nomination, even if DeSantis should choose to run against him.
"I got him elected, pure and simple," Trump said of DeSantis, speaking on "The Water Pooler" podcast with host David Brody. "So, now I hear he might want to run against me, so we'll handle that the way I handle things."
Republicans push for someone other than Trump to lead the party comes after a less-than-expected outcome in the 2022 midterm elections. While experts predicted the GOP would flip both the U.S. Senate and the House of Representatives, some of Trump's candidates lost key races, so they only captured the latter.
DeSantis easily won his re-election for governor over Democrat Charlie Crist with nearly 20% of the vote.
Continue Reading at Fox News.