Jesse Watters Gets Tucker Carlson's Prime-Time Slot in Fox News Lineup Shuffle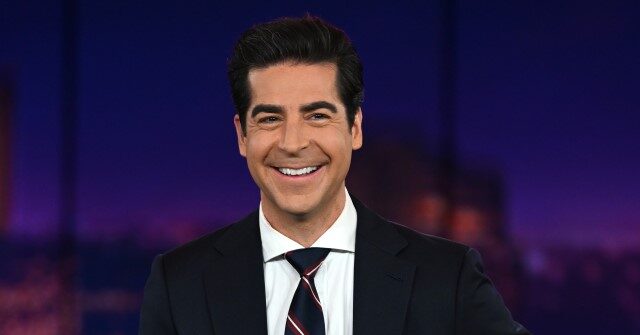 Jesse Watters, host of Watters' World and co-host of The Five, is formally taking over Tucker Carlson's former prime-time slot in Fox News's lineup shuffle, Suzanne Scott, CEO of Fox News Media, announced Monday.
The new lineup, which will officially kick off July 17, will feature Laura Ingraham starting off the prime-time lineup at 7:00 p.m. Eastern with her show The Ingraham Angle. Prior to this change, her show aired at 10:00 p.m ET.
Jesse Watters will follow, officially taking over Tucker Carlson's former 8:00 p.m. slot with Jesse Watters Primetime. According to Fox News, last year's launch of the show in the 7:00 p.m. slot was wildly successful, earning "the title of the fastest growing cable news program, crushing the competition across the board with 2.6 million viewers and 270,000 in the 25-54 demo year to date." Fox News also noted that the show has remained number one in its time slot since its launch, "delivering the highest-rated 7 PM/ET hour in cable news history."
Sean Hannity's show Hannity will continue to air at 9:00 p.m., and Greg Gutfeld's Gutfeld! will move to 10:00 p.m., taking over Ingraham's previous spot. Additionally, FOX News @ Night with Trace Gallagher will air at 11:00 p.m. instead of midnight.
"FOX News Channel has been America's destination for news and analysis for more than 21 years and we are thrilled to debut a new lineup," Scott said in a statement.
"The unique perspectives of Laura Ingraham, Jesse Watters, Sean Hannity, and Greg Gutfeld will ensure our viewers have access to unrivaled coverage from our best-in-class team for years to come," Scott added.
The new lineup, set to kick off in three weeks, comes roughly two months after Carlson's controversial and abrupt departure. Fox News lost nearly one-third of its prime-time viewers in the first full month post-Carlson. It averaged 2.072 million primetime viewers in April, but that figure dropped to 1.417 million in May.
Further, for the first time in five years, MSNBC beat Fox News and CNN in total prime-time viewers post-Carlson.
As AdWeek reported on June 13:
MSNBC, for the first time since 2018, beat Fox News and CNN in primetime among adults 25-54 and total viewers. It was the most-watched basic cable network in primetime this past week, averaging 1.52 million total viewers — its largest average primetime audience since the 2022 midterm elections. MSNBC also averaged 172,000 adults 25-54 in primetime, more than its cable news rivals and No. 8 on all of basic cable.

…

MSNBC has been threatening Fox News' cable news ratings supremacy in recent weeks. Disaffected CNN viewers have steadily moved over to left-leaning primetime hosts Rachel Maddow, Chris Hayes, Lawrence O'Donnell and Alex Wagner, while right-leaning Fox News has lost some viewers in primetime following the exit of Tucker Carlson.
Carlson, meanwhile, has continued to speak out via his new Twitter show, and his first episode initially garnered over 100 million views, as Breitbart News reported on June 8.
As of Monday, Carlson had released six episodes.