Morgan Stanley Says Jaw-Dropping Inventory Levels A "Key Risk" To Retailers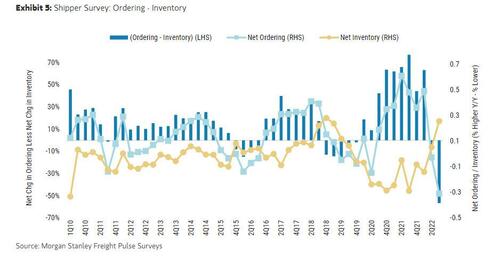 A Monday report from Morgan Stanley's equity team said inventory is a "key risk" to retailers and electronic goods manufacturers. Thank skidding demand amid a glut of inventory, i.e. the reverse bullwhip effect we predicted back in May is coming true (see "Bullwhip Effect Ends With A Bang: Why Prices Are About To Fall Off A Cliff").
Morgan Stanley highlighted retailers like Best Buy, Gap and Williams-Sonoma as most exposed to these inventory risks. In the goods industry, Morgan Stanley said there's a 19% discrepancy between inventory and sales growth.
Companies with high consumer exposure have slashed their ordering — even though this time of year tends to be when retailers are beefing up their warehouses ahead of the holiday season.
According to the Morgan Stanley Shipper Survey, in which some 100 corporations regularly share their transportation needs and macro expectations, net ordering levels have reached the lowest point in the survey's 12-year history. Ordering levels are down 40% year over year. Net inventory levels are also unusually high.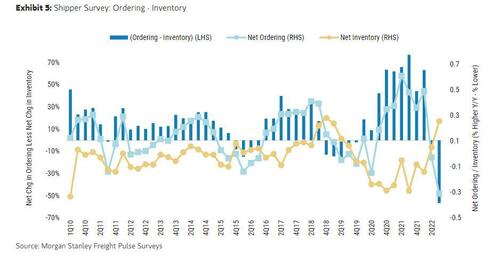 "Almost half of respondents say that their inventory is higher and ordering is lower going forward — which firmly indicated an over-inventoried/de-stocking condition," wrote Ravi Shanker, who is Morgan Stanley's lead transportation equity analyst.
The 56-page report noted elsewhere:
"Faced with a glut of inventory, companies will need to decide whether they want to accept high costs to continue holding inventory, destroy inventory, keep prices high and take a hit on the number of units sold, or slash prices to stimulate demand. We believe many will turn to aggressive discounting to solve their inventory
Continue reading Morgan Stanley Says Jaw-Dropping Inventory Levels A "Key Risk" To Retailers at ZeroHedge.