The Biden Administration Sends Its Clean-up Hitter Obama to Arizona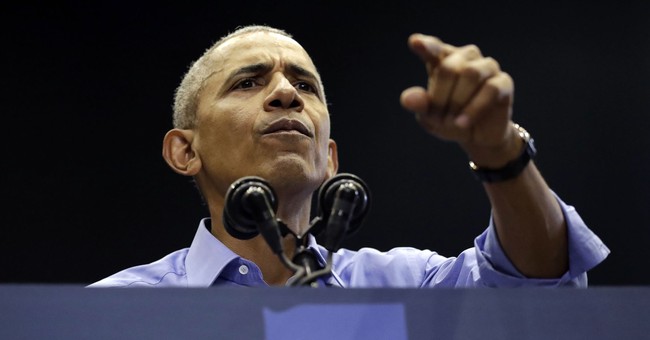 Democrats are in a dead panic. They are about to get stampeded next Tuesday so they have brought out the big gun. For the last several weeks, the party leader has been crisscrossing the country appearing in states to rally the troops and inspire hope and scare the electorate into believing that democracy hangs by a thread.
Not Joe Biden. Joey Mumbles has made some appearances but not many Democrats want to be anywhere near him. Joe's political kryptonite, and in any event, he's not in charge. Joe isn't the leader of the party. He can't lead himself off a stage. The leader of the democratic party is Barack Obama.
Obama was in Wisconsin pushing the Democrats' "Big Lie" that democracy is on the ballot and also in Georgia where he morphed into his fake southern Baptist preacher drawl and stumped for Warnock and election denier Stacey Abrams. Abrams has denied denying that she denied the undeniable – but she did deny the 2016 results. In fact, Abrams and Hillary Clinton were denying election results long before Trump did. At least they beat him at that.  But, it's ok to question election results when you have a (D) behind your name. Those are the rules, apparently.
Obama was in Arizona for a Wednesday rally. He gave the same speech (with some variation) that he gave in Georgia, but his fake accent was a modified "down-home" country twang, with the same "The world is about to end" theme. Democracy is at risk if Republicans win elections. Obama said:
"If you do need one more reason to vote, consider the fact that our democracy is on the ballot. And nowhere is that clearer than here in Arizona…democracy as we know it may not survive in Arizona".
Yeah, ok, guy. And Dems claim Trump is hyperbolic.
Obama, like Bill Clinton, has a talent for oratory and hyperbole. Not so much for facts. He has the talent of a carnival huckster who reels in believers and picks their pockets. The believers cheered. Obama kissed some babies and left. Will Obama's appearance change the fact that Katie Hobbs is a terrible candidate or that Mark Kelly isn't much better? No. But the willing media will use incendiary language to label Kari Lake and Blake Masters as "extremist election deniers." In a CNN article, the journalist used reactionary language to describe Lake and then cited the only poll that didn't have Lake leading Hobbs.
The Democrats went Full Monty months ago, so it's hard to ramp up the get out the vote scare tactics when you've already overused "democracy will die," America is "at an inflection point," and "children will be murdered" lines.
So who's the pick to close in Arizona? It's not Kamala Harris. Too close to the border. Harris' calendar via The LA Times doesn't indicate what Harris will be doing this coming weekend, but she recently marveled at Venn diagrams and yellow school buses so there is no telling what important role she will play in the "Democracy is in peril" tour, but it won't be in Arizona.
The Administration is sending its clean-up hitter. The one person who understands Arizonans and loves its 32 percent Hispanic population. Dr. Jill Biden is flying to Arizona to stump for the vote. Dr. Jill has long embraced the cultural significance of tacos, and Arizona has tacos. She speaks Spanish as well and has demonstrated her bilingual mastery on multiple occasions. The last time Dr. Jill was in Arizona, she appeared at an event in Tucson in March where she wore a mask, outside in the glaring sun.
Get ready for the Biden version of Shock and Awe Arizona.
Continue Reading at Red State.