The Green New Deal is back, and it's more radical than ever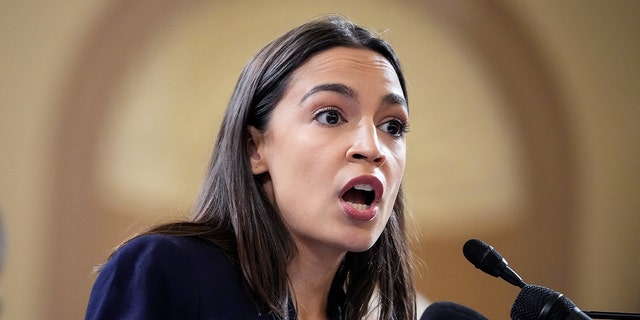 Four years ago, socialist Congresswoman Alexandria Ocasio-Cortez, D-N.Y., and her much-older socialist ally in the Senate, Ed Markey, D-Mass., made shockwaves by introducing a sweeping proposal for a Green New Deal.
The Green New Deal is one of the most socialistic legislative proposals ever conceived in Congress. It would, among many other things, create massive new spending programs, eliminate "pollution and greenhouse gas emissions as much as technologically feasible," transform all U.S. manufacturing and transportation, and upgrade "all existing buildings in the United States."
The Green New Deal would also make substantial changes to America's vast agricultural industry, create a jobs guarantee, and provide all people with government-managed health care, "economic security," healthy food and "access to nature."
Unsurprisingly, the Green New Deal is likely the costliest legislation proposed to date. The American Action Forum estimates the final price tag could be as high as $94.4 trillion.
The socialist Green New Deal failed spectacularly when it was brought before the Senate as a nonbinding resolution in 2019. Despite having received support from numerous high-profile members of Congress, including Sen. Bernie Sanders, I-Vt., and then-senator Kamala Harris, the measure failed to receive even a single vote in the Senate.
However, the Green New Deal's past failures haven't deterred the most socialistic wing of the Democratic Party. AOC and Markey announced in late April that they are reintroducing the Green New Deal in both the House and Senate. he original Green New Deal called the "Green New Deal for Health."
According to a press release by Markey's office, the Green New Deal for Health "boldly reimagines a health care system that is prepared and empowered to protect the health and well-being of our workers, our communities, and our planet."
The proposal includes numerous socialistic and progressive policies, including a $130 billion investment in community health centers, $100 billion in new government grants to improve medical facilities' "climate resilience and disaster mitigation efforts," and countless new climate change regulations meant to establish a "green medical supply chain."
But perhaps the most important and far-reaching reform offered by the Green New Deal for Health is one that has received virtually no media coverage. The Green New Deal for Health would establish a new office within the Department of Health and Human Services called the Office of Climate Change and Health Equity.
The proposed Climate Change and Health Equity Office would oversee facilitating "a robust, Federal response to the impact of climate change on the health of the American people and the health care system."
The Climate Change and Health Equity Office would also be tasked with creating government reports showing the "physical, mental, and behavioral health consequences of climate change," developing tools to track carbon-dioxide emissions, and leading "efforts to reduce the carbon footprint" of the health care industry.
Or put in simpler terms, the Office of Climate Change and Health Equity would be responsible for injecting far-left, costly climate policies throughout the U.S. health care system, one of America's biggest employers. This would drive up already skyrocketing health costs, put thousands of jobs at risk, and increase taxes, making it harder for working-class Americans to pay for the treatments they need.
The Office of Climate Change and Health Equity would also coordinate "Federal efforts to deploy climate-conscious human services and direct services to support and protect populations composed of individuals disproportionately affected by climate change." This might sound like a good idea to some, but the details of the legislation show this provision would ensure that federal health efforts would favor some demographic groups over others.
In another section of Markey's and Khanna's bill, "individuals disproportionately affected by climate change" are defined by a laundry list of absurd social-justice criteria, including Americans "under 5 years old or over 65 years old," "being of reproductive age," "gender minority status," "household income," pre-existing health concerns, "immigration status," "race and ethnicity," and "experience of racial bias." (To qualify under the provision, an American must fall into two or more of the categories.)
Taken together, only a fraction of Americans – mostly healthy heterosexual White males over the age of 5 but under the age of 66 – would likely be considered exempt from whatever special benefits are bestowed on those lucky enough to be labeled "individuals disproportionately affected by climate change."
It's hard to imagine that anyone could have created policy proposals more outlandish than the original version of the Green New Deal proposed in 2019, but the Green New Deal for Health has somehow managed to achieve that remarkable feat.
Thankfully, neither the Green New Deal nor the Green New Deal for Health have any hope of being passed by the Republican-controlled House of Representatives anytime this year or next. But the far-left's persistence to create these radical plans ought to serve as an important reminder of what could be heading our way soon if Americans don't continue to push back against the rise of socialism in the United States, especially in the halls of Congress.
Continue Reading at Fox News.