The Leftists Loathe Tim Scott's Racial Optimism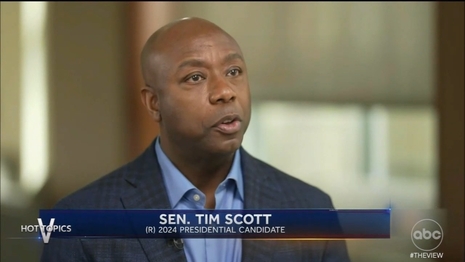 It's common among the conservative Twitterati to joke that the leftist media really want Donald Trump to be the nominee again, assuming – as they did in 2016 – that it means doom for the Republicans.
But whoever prevails, the 2024 Republican primary cycle is going to work out like all modern-day cycles. Inevitably, liberal Democrat reporters are going to end up loading buckets of slime and unloading them on every half-plausible candidate on the Republican side of the campaign. Even John McCain learned the hard way that his media pals would turn on him when it counted.
On May 22, Sen. Tim Scott announced he was running for president, the only black Republican in the Senate. The left desperately wants to cartoon the Republican electorate as a pack of white supremacists, so Scott has to be mocked as the worst kind of African-American.
MSNBC host Rachel Maddow, now the laziest host in cable news – she only works Mondays – mocked Scott's vocal delivery. "That was a rough first three seconds of his presidential campaign," said Maddow, laughing. "But who knows? Maybe it was just a rough first couple of seconds. Maybe in the end, he will do great. It worked out great for Peter Brady, in the end. He got through it. It was tough."
Maddow compared a 57-year-old black man to a teenage white boy going through puberty. It's not hard to guess how this would have been greeted if someone mocked the Almighty Barack this way. It would be racist.
Then there are the pompous pundettes on ABC's The View, lecturing Scott that he can't possibly run for president based on optimism about America's racial situation. Sunny Hostin waved him off: "I don't know who his message is supposed to resonate with actually. He's talking about victimhood and personal responsibility, as if people aren't taking responsibility for their own actions." Whoopi Goldberg echoed, "he came out and did that dog whistle: victimhood."
Hostin said being a successful black man is rare: "He is the exception, and not the rule. And until he is the rule, then he can stop talking about systemic racism." You can either agree America's a systemic racist cesspool, or you can shut up. Goldberg dropped the bomb: "He's got Clarence Thomas Syndrome."
Who is really demeaning black Americans in this debate? Apparently, racial pessimism is forever.
Journalists will also make routine fun of Tim Scott's Christianity. Washington Post political reporter Ben Terris tweeted on Announcement Day, "Tim Scott will be the first prez candidate I've ever asked about the status of his virginity." A few years ago, lifelong bachelor Scott coyly answered Terris that the ship had sailed, but he insisted adultery was a sin. Why ask? Because Scott used to preach abstinence before marriage, which apparently opens the door to invasive personal questions. So if Kamala Harris is pro-abortion, has Terris asked her how many abortions she's had? Or how many she's funded, since she's so pro-abortion?
So far, the GOP presidential field contains two black men and two Indian-Americans, but Republicans are still hopelessly racist, because any Republican "of color" is cartooned as a self-loathing Clarence Thomas, a token desperate for white approval.
The Left thinks any pushback on their inaccurately described "diversity, equity, and inclusion" agenda is a politics of grievance. They're never introspective enough to see their own sign as pushing division and racial hatred for political gain. Tim Scott's optimistic and patriotic vision is a breath of fresh air – fresher than the "Joy, Whoopi, and Sunny" team will ever be.
Continue Reading at Newsbusters.