White House refuses to say whether Biden supports reparations for slavery, says it's for 'Congress to decide'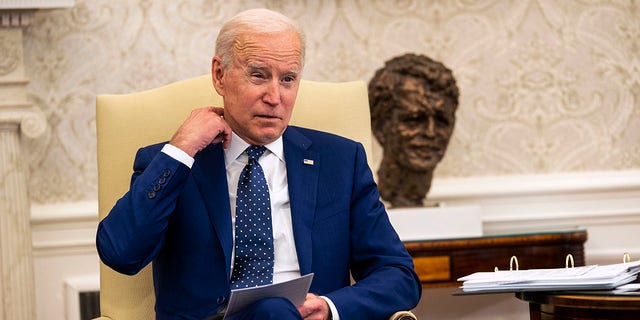 White House press secretary Karine Jean-Pierre failed to answer a question about whether President Joe Biden supports slavery reparations at a national level, amid San Francisco's proposal to grant each eligible Black resident $5 million using taxpayer dollars.
During a press briefing Tuesday, Jean-Pierre was asked where the administration stands in support of slavery reparations, responding that the White House is "going to leave it there for Congress to decide."
"We understand that there's a legislation on the Hill currently on this, on the study of reparations and we think Congress is the appropriate venue for consideration on such action. And so, we're going to leave it there for Congress to decide, to let them go through their process that they're taking at this moment," Jean-Pierre told reporters.
Instead of revealing Biden's stance on the issue, Jean-Pierre said, "I would lay out and speak to what the president has done over the last two years. When he came into office he talked about the different crises that this country is dealing with, and one of them was racial equity, and racial equality and fighting for that, for communities like the Black community."
Jean-Pierre concluded that the administration would leave the decision "in the hands of Congress."
Rep. Sheila-Jackson Lee, D-Texas, recently introduced a bill in January 2023 that seeks to "study and develop reparation proposals for African Americans."
The legislation, cosponsored by 87 Democratic representatives, would dive into "the lingering negative effects of the institution of slavery," and use findings from 1619 to 1865 to hand out reparation payments to eligible Black Americans.
If passed, the bill would "identify, compile, and synthesize the relevant corpus of evidentiary documentation of the institution of slavery which existed within the United States and the colonies that became the United States from 1619 through 1865."
The act would authorize an appropriation of $20 million.
San Francisco's Reparations Task force is proposing $5 million be paid to each eligible Black resident in the city, a move that would cost each taxpayer in the Bay Area around $600,000 each.
The California Reparations Task force is also currently proposing a $640 billion program that would grant $360,000 to each eligible Black resident, which would be given to around 1.8 million Californians.
The groups are both seeking to grant Black residents homes for just $1 per family.
Continue Reading at Fox News.