"Worse Is To Come" – Home Sales Slide Far From Over As Goldman Sees "Sustained Higher Mortgage Rates"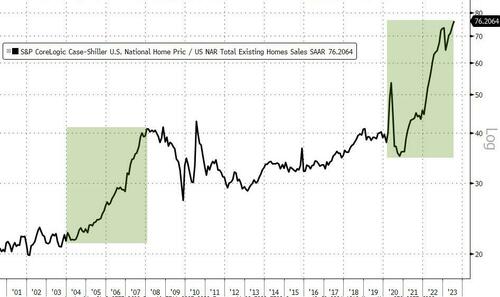 "Worse Is To Come" – Home Sales Slide Far From Over As Goldman Sees "Sustained Higher Mortgage Rates"
Existing home sales plunged back below 4mm SAAR last month for the first time since the foreclosure crisis in 2010. Outside of the fallout from the Great Financial Crisis, home sales are the lowest in 27 years…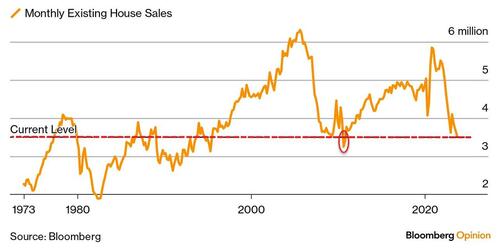 But, if Goldman Sachs' Jan Hatzius and his team are right, worse is to come.
Meanwhile, prices are not reflecting the sales pressure – doubling relative to sales in the last four years… just like they did into 2008's peak…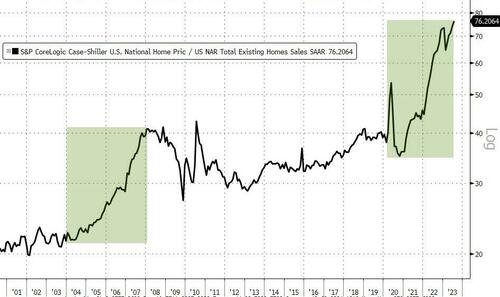 Goldman's strategists expect mortgage rates to remain elevated for the foreseeable future, warning that these sustained higher rates will have the most pronounced impact in 2024 on housing turnover.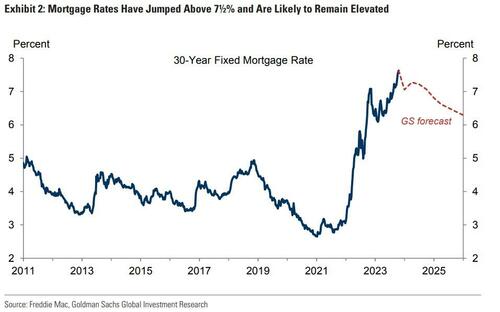 Essentially all borrowers have mortgage rates well below current market rates, and even a sharp decline in mortgage rates will leave a historically large share of homeowners with a financial disincentive to move…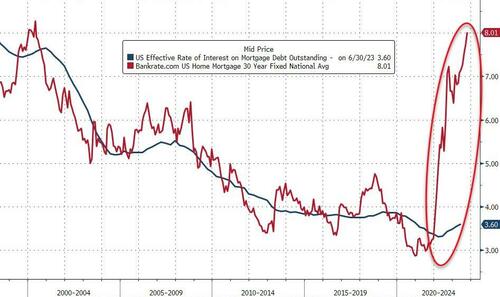 Almost 90% of homeowners have rates more than 2pp below and (over 60% have rates more than 4pp below) current rates..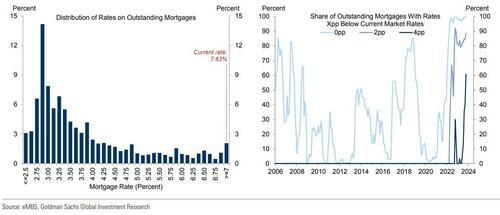 The combination of mortgage borrowers refinancing at low rates en masse either last cycle or early in the pandemic and the high current level of mortgage rates has created a significant implicit financial cost for a substantial share of households that otherwise might consider moving, as buying
Continue reading "Worse Is To Come" - Home Sales Slide Far From Over As Goldman Sees "Sustained Higher Mortgage Rates" at ZeroHedge.