Donald Trump: Security Tapes Would 'Quickly' Find White House Cocaine Smuggler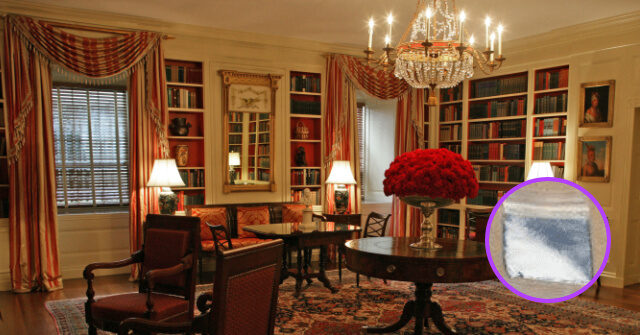 Former President Donald Trump said the security tapes would "quickly" reveal who smuggled cocaine into President Joe Biden's White House after the drug was reportedly found in the West Wing.
Over the weekend, a substance was found inside the White House that reportedly tested positive for cocaine.
On Monday, U.S. Secret Service spokesman Steven Kopek confirmed an "ongoing investigation" into the matter, but did not confirm whether the substance contained cocaine. 
In response, Trump predicted the "Fake News Media" will downplay the substance's finding. 
"Does anybody really believe that the COCAINE found in the West Wing of the White House, very close to the Oval Office, is for the use of anyone other than Hunter & Joe Biden," Trump posted on Truth Social. "But watch, the Fake News Media will soon start saying that the amount found was "very small," & it wasn't really COCAINE, but rather common ground up Aspirin, & the story will vanish."
The former president joked that Special Counsel Jack Smith "looks like a crackhead."
"Has Deranged Jack Smith, the crazy, Trump hating Special Prosecutor, been seen in the area of the COCAINE?" Trump asked. "He looks like a crackhead to me!"
Trump then highlighted the thousands of boxes of documents that were found in President Joe Biden's possession in various locations. 
"Whatever happened to the 1,850 BOXES of Documents that Biden won't show to anybody?" Trump asked. "What about the Docs found in Chinatown, D.C., and those in his unsecured garage, where Hunter stayed as China was sending Biden millions and millions of dollars for doing absolutely 'nothing?' Maybe the nothing was 'for doing plenty!'"
"Where are the White House SECURITY TAPES, like the ones I openly and happily gave to Deranged Jack Smith, which will quickly show where the Cocaine in the White House came from???" Trump added. "They already know the answer, but probably don't like it!"
On Wednesday, White House press secretary Karine Jean-Pierre refused to say whether the White House supports prosecuting the unknown cocaine smuggler. 
"If the Secret Service determines who brought the cocaine into the White House, does the White House support the prosecution of this individual?" a reporter asked Jean-Pierre.
"I'm just not gonna get into hypotheticals from here. Let the Secret Service do their job. It's under their purview. We are confident that they will get to the bottom of it. I'm just not going to get ahead of this at this time," she responded.