Haley Swings at Trump: Don't Need to Be 80 to Lead…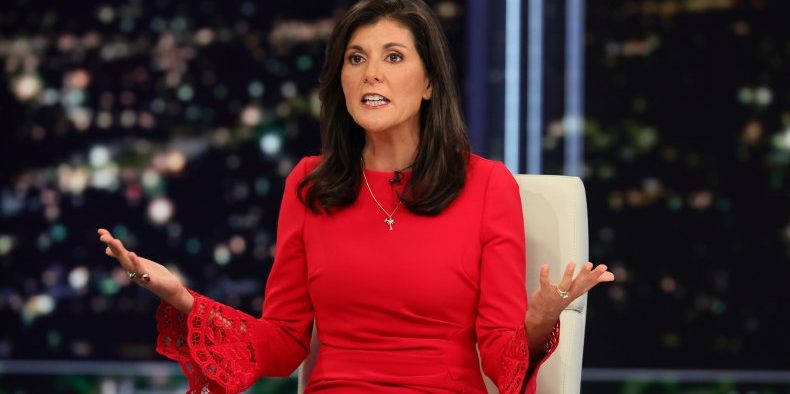 Nikki Haley took a swipe at former president Donald Trump as he hit the campaign trail in her home state of South Carolina on Saturday.
Trump spoke to about 200 people in the state's capitol building in Columbia, flanked by Governor Henry McMaster and U.S. Senator Lindsey Graham.
But Haley, a former governor of South Carolina who was Trump's ambassador to the United Nations, was among those notably absent from the event.
Haley, who is expected to get her presidential campaign underway in the coming months, wrote on Twitter on Saturday: "It's time for a new generation to lead."
In the tweet, she shared a clip of an interview she gave to Fox News earlier in January.
The clip featured Haley's response when asked about her statement to the Associated Press in 2021 that she would not seek the Republican party's nomination if Trump chose to run in 2024.
The "survival of America matters," Haley said, adding that it is "bigger than one person."
"And when you're looking at the future of America, I think it's time for new generational change. I don't think you need to be 80 years old to go be a leader in D.C.," Haley said. "I think we need a young generation to come in, step up, and really start fixing things."
Haley is 51, while Trump is 76 and President Joe Biden is 80.
In that interview, Haley said she was close to making a decision about whether to run for the White House.
She added that she had made the comments about backing Trump's 2024 candidacy "before we surrendered to Afghanistan, it was before we saw this high inflation and high crime, it was before we saw drugs infesting all of our states, it was before we saw our foreign policy in disarray, so a lot has changed.
"And when I look at that, I look at the fact if I'm this passionate and I'm this determined, why not me?"
A report in The Dispatch on Saturday said Haley could make make her 2024 presidential bid official as soon as February.
"She's definitely positioned to launch," Dave Wilson, president of the Palmetto Family Council in Columbia, South Carolina, told the outlet. "The rocket is fueled and ready. I think we're just in the countdown now."
Trump visited New Hampshire and South Carolina on Saturday, where he sought to brush aside criticism that his run had got off to a slow start.
"I'm more angry now and I'm more committed now than I ever was," he told a small crowd at the New Hampshire Republican Party's annual meeting in Salem.
Newsweek has contacted Haley and he Trump campaign for comment.