Money Illusion Will Ease Stock Selloff In Recession, But…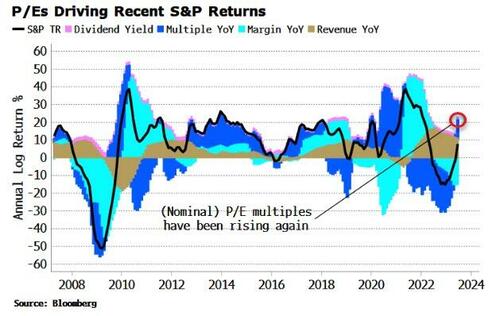 Money Illusion Will Ease Stock Selloff In Recession, But…
Authored by Simon White, Bloomberg macro strategist,
Elevated inflation is poised to limit equity downside in the next recession and the following cycle.
It's time to get real. Several decades of relatively benign inflationary conditions have led to a blurring of the difference between real and nominal values, with predominant focus on the latter. But their growing divergence as inflation has risen has made it imperative to consider real values in order to successfully navigate and understand financial markets.
Recency bias likely means most investors are working off the recession playbooks from the near past. That means stocks sell off steeply through the downturn, before Federal Reserve easing stabilizes the situation. The next recession, though, is highly likely to be accompanied by elevated inflation, meaning stocks – in nominal terms – may not fare as badly as in recent downturns, and are poised to remain supported after it.
To understand why, we can break down the price of equities as being the product of the P/E multiple, the profit margin, and revenues. This year, the rise in the P/E multiple has driven the market higher (led by AI stocks, but beginning to broaden out), as it did in 2020/21.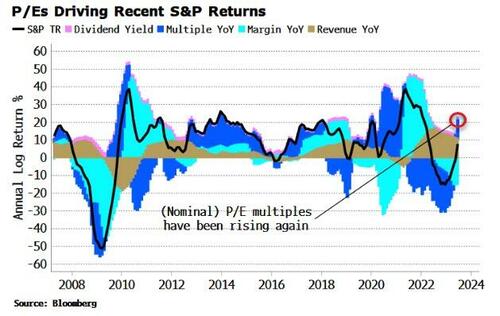 But the rise in P/Es is unlikely to last.
Inflation is down but not out, and extremely tight labor markets, weak productivity, rising profit margins and incrementally more easing in China mean that inflation in the US is poised to re-accelerate as soon as by the end of the year. That would mean multiples falling again and, you might suspect, a reason to sell.
But looking at the 1970s, it's not so simple.
In that decade, the market rallied all through
Continue reading Money Illusion Will Ease Stock Selloff In Recession, But... at ZeroHedge.