Will Global Stock Markets Crash In 2023?
Will Global Stock Markets Crash In 2023?
For the upcoming year, expert predictions have ranged from extreme optimism to not-so-subtle nervousness, especially when it comes to gauging the health of the global economy.
This chart from Gilbert Fontana skips past expert predictions, and looks directly at those of citizens in multiple countries around the world.
Using data from the Ipsos Global Advisor Predictions surveys from 2019‒2023, Visual Capitalist's Omri Wallach plots the percentage of average citizens that think global stock markets will crash in the upcoming year.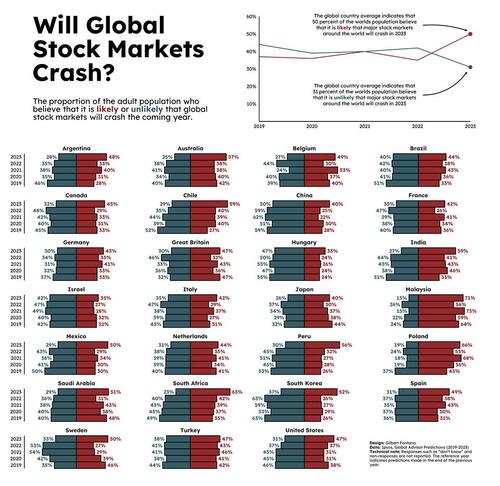 Methodology
The annual reports used to generate the charts draw from a 36-country survey of more than 24,000 adults. Each country shown had at least 500 individuals sampled, with countries in the G7 and other major economies including China, Brazil, and South Korea having approximately 1,000 individuals sampled.
Specifically, respondents were asked a question on whether "major stock markets around the world will crash" in the following year, and were asked to respond either "likely" or "unlikely".
Responses were collected at the end of the previous year in question. For example, for 2023, survey data was collected in October and November 2022. Responses of uncertainty or non-answers weren't included in the chart above.
And across the board, each country's data was also weighted to accurately reflect its demographic profile according to recent census data.
Stock Markets Crash Predictions By Country
When looking forward to 2023, most of the respondents from around the world felt that the likelihood of global stock markets crashing was more likely than unlikely.
Market Crash Predictions by Country Likely (2023) Unlikely (2023) 🇦🇷 Argentina 48% 28% 🇦🇺 Australia 57% 25% 🇧🇪 Belgium 49% 27% 🇧🇷 Brazil 44% 40% 🇨🇦 Canada 45% 32% 🇨🇱 Chile 59% 29% 🇨🇳 China 40% 50% 🇫🇷 France 42%
Continue reading Will Global Stock Markets Crash In 2023? at ZeroHedge.