A Message to the Republican Doomers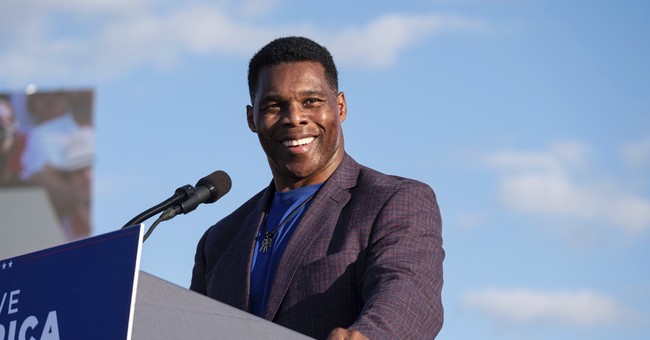 As RedState reported, a nuclear opposition research strike landed on Georgia US senate candidate Herschel Walker's head on Monday evening. The Republican was accused by an anonymous source of paying for an abortion for his then-girlfriend back in 2009.
A picture of a "get well soon" card (that didn't mention abortion) was included in the report, as well as claims of having a receipt for the procedure, though, the dumpster fire publication that is The Daily Beast did not publish it. Walker denied the report, after which his son, a social media "influencer" who had previously supported his father's run for Senate, then rage tweeted for about an hour, calling Walker a liar.
That wasn't the only opposition research drop of the day, though. That morning, far-left outlet Jezebel released a story claiming that Republican Mehmet Oz, who is running for US Senate in Pennsylvania, had abused dogs during his medical research at Columbia University.
For the most part, that story quickly fell apart, with Oz not actually being directly implicated and only a small $2000 fine being paid to the government to avoid any further litigation. And whether one personally approves or not, animals are commonly used for medical research.
Regardless, the dooming by Republicans was off the charts and continues as of this writing.
I just don't understand it. Have the last ten years of politics just been erased and I wasn't aware of it? I understand Republicans, especially those that work in politics, are natural cynics, but this is not the time to pronounce defeat.
Remember when that infamous tape of Donald Trump came out a month before the 2016 election and Hillary Clinton was elected? Me neither. I'm not saying that Walker didn't take a blow. I am saying that there's enough precedent to not doom and gloom over every single hit a candidate takes.
When Raphael Warnock, Walker's incumbent opponent, was accused of domestic violence, covering up abuse at his church camp, and committing campaign finance violations, did Democrats fold and proclaim him dead on arrival? No, they didn't. Instead, they rallied the troops and went on the offensive, and do you know what happened? They won the run-off election in January of 2021 anyway. That's how you have to operate in the current political reality, and I'm getting sick and tired of Republicans cowering in terror every time things don't go their way.
I'll go ahead and make a bold prediction: A week from now, the polls in Georgia will still be within a few points and that race will still be winnable. Further, there is ample opportunity to help Blake Masters over the finish line in Arizona instead of just giving up on him in what is objectively a close race. Mehmet Oz also continues to gain ground in Pennsylvania, and that stupid dog-killing story isn't going to move the needle. Lastly, Adam Laxalt in Nevada is winning right now. You need one of three after that. That's it.
There is nothing to be gained from dooming right now. There is everything to gain from standing up, putting in the work, supporting the candidates that Republicans have, and coming out victorious in November. Americans are focused on the issues that actually affect them. Very few are going to base their vote on decade-plus old tales of moral failings. Republicans need to get that through their heads and start acting like a party that is in a position to win big in a month.
Continue Reading at Red State.