Jill Biden Gets Mercilessly Booed at Eagles Game During Coin Toss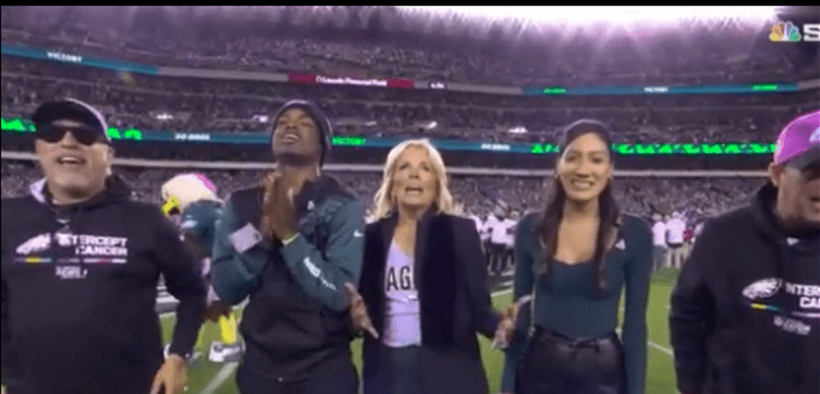 Jill Biden was in Philadephia on Sunday and she went to the Eagles game with Dallas at Lincoln Financial Field.
Biden was designated the honorary captain for the night and was standing at midfield during the coin toss when they flashed her picture on the big screen.
That's when the booing erupted and let her have it. It must have been pretty substantial from what the people were saying.
That had to be especially cutting since she's an Eagles fan.
But in all honesty, Americans are just fed up at this point with the mess that she and her husband have made of the country and they just vented. Given how much Joe Biden's actions have been hurting people it's completely understandable that they would let her know what they were thinking when they had the opportunity. But Joe Biden is just in denial about it, even claiming "the economy is strong as hell."
John Fetterman better take note of this: People in Pennsylvania are not happy with what Biden and the Democrats have done. And a lot more may have something to say come election day.
But for some reason, when videos come out now within seconds of things happening and this is at an NFL game, there doesn't appear to be a video yet. The local reporters/NFL writers are reporting it so it happened. But it's almost as though someone doesn't want us to see/hear it. Even Outkick asked the question: We know it happened, so why does the video appear to be hard to find?
We can find some other visuals. She did participate in the fight song, "Fly Eagles Fly."
Continue Reading at Red State.