Nikki Haley vows to cut Biden's 'disastrous' energy policies, increase US oil production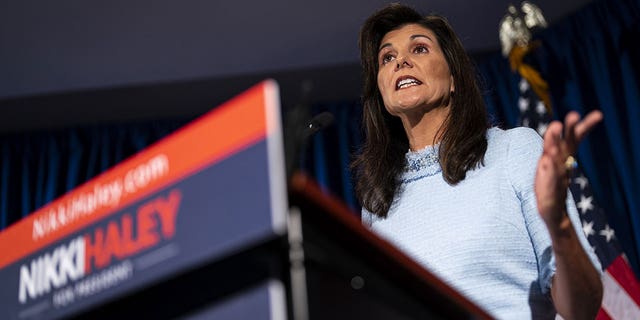 GOP presidential candidate Nikki Haley plans on cutting down President Joe Biden's "disastrous" energy policies as well as bringing oil production back to the United States, if she's elected to the Oval Office in 2024.
Haley, who previously served as the governor of South Carolina, shared her energy plan with Fox News Digital ahead of her formal announcement in Texas on Thursday.
In her list of five main promises, Haley said she would work to "empower American producers" to boost oil production in the U.S. while fighting against the demonization of the oil and gas industry. She also said the government would have a more hands-off approach in energy production and spending while also ensuring the speedy permission and building of interstate pipelines.
The former Ambassador to the United Nations during the Trump administration honed in on the Environmental Protection Agency and "radical environmental groups," promising she would not allow them to halt any new energy projects on the horizon.
The GOP candidate also slammed Biden's green energy policies, saying she would "roll back Biden's wasteful green energy subsidies and regulations." Haley specified that a number of subsidies in the Inflation Reduction Act could cost as much as $1.2 trillion along with a number of "Biden administration rules and regulations that would hamstring our oil and gas industries," citing Biden's power plant regulations and his crackdown on gas-powered cars.
Finally, Haley said she would "stand up to Russia and Iran" in an effort to halt their energy imports and establish a strong foreign policy. 
Biden and his administration have come under fire for his energy and oil policies since taking office, including canceling the Keystone XL pipeline during his first week, the overall increase in gas prices, and his environmental, social and corporate governance agenda.
The president's most recent energy crackdown comes as the administration is expected to finalize regulations that restrict which home gas-powered furnaces consumers are able to buy in the future. Some officials say the regulations would ultimately restrict consumer choice, drive prices higher and most likely have a low impact on greenhouse gas emissions.
Biden's decision to revoke the Keystone XL pipeline's permits in 2021, effectively shutting down the project, received much backlash from Republican lawmakers and energy industry representatives who argued it would have helped keep gas prices down and ensure energy security. However, a congressionally mandated report released in January says the Keystone XL project would have created between 16,149 and 59,000 jobs and would have had a positive economic impact of between $3.4 billion and $9.6 billion, citing various studies.
Likewise, the president has come under fire for touting low gas prices in the wake of record-high prices in 2022.
"Gas prices are down around $1.60 a gallon from their peak this summer – and my Administration will keep working to lower costs for American families," Biden tweeted in late January.
The White House has repeatedly put blame on the COVID-19 pandemic, the supply chain crisis and Russia's invasion of Ukraine for high gas prices. Many rushed to Twitter at the time to call the president out on his hastiness to claim credit.
Most recently, the debt ceiling deal – titled the Fiscal Responsibility Act – included a provision to fast-track a 303-mile West Virginia-to-Virginia natural gas pipeline project for approval. The pipeline, which is 94% complete, is projected to create 2,500 construction jobs, $40 million in new tax revenue for West Virginia, $10 million in new tax revenue for Virginia and up to $250 million in royalties for West Virginia landowners.
Continue Reading at Fox News.