NPR: National Press Release for Kamala Harris Pushing Abortion Across America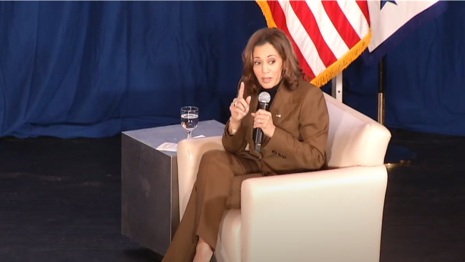 On Friday, NPR demonstrated its daily mockery of its show title All Things Considered with a completely one-sided story on Vice President Kamala Harris is holding a series of pro-abortion events across America. There were no Republicans. There were no pro-life activists. There was just NPR — National Press Release.
The unpaid press secretary was named Deepa Shivaram, and she began with a "moderated conversation" at Central Connecticut State University that was basically a campaign event for embattled Democrat Rep. Jahana Hayes:
JAHANA HAYES: As women's rights are being eviscerated all over the country, it is critical that we take action to enshrine women's reproductive rights into law.

SHIVARAM: This is normally a safe Democratic district, but Hayes is in a tight race this year, one of several that Democrats need to win to try to hold on to the House. She brought in a well-known guest to help make her case.

HAYES: I think that our vice president of the United States of America is uniquely qualified to weigh in on this conversation.
Why is she uniquely qualified? Shivaram didn't mention that Harris was questioned at this event by Hayes and another expert — Alexis McGill Johnson, president of Planned Parenthood, America's leading destroyer of babies. She never pointed out that the Republican in this race, George Logan, is also pro-abortion, and a black man. NPR could have mentioned his morning tweet:
I welcome Vice President Harris to #CT05 today, and I look forward to hearing from her and @JahanaHayesCT on how they plan to address record high inflation, rising energy costs, the crisis at our southern border, crisis level test scores in schools, and chaos abroad.#ctpolitics

— George Logan (@GSLoganCT) October 5, 2022
Instead, shallow Deepa sounded like she was promoting Harris For President 2024, finding liberals to tout her pro-abortion passion:
SHIVARAM: The conversation is about protecting reproductive rights. And Harris has been weighing in — repeatedly. This was one of more than 20 events on abortion rights that the vice president has led since May, when the draft opinion reversing Roe v. Wade was first leaked.

KAMALA HARRIS: This is admirable to get out here and speak with force and feeling about this issue.

SHIVARAM: She's been taking this message to North Carolina, Indiana and Florida. And back at the White House, she's been bringing together all kinds of stakeholders — lawmakers, faith leaders, health experts — to listen and to energize.

JOCELYN FRYE: She is very much involved in the conversation. She is — these are not — this is not a meeting where she's just reading talking points.

SHIVARAM: That's Jocelyn Frye, a Biden administration ally who leads an advocacy group, the National Partnership for Women and Families. She was in one of Harris's meetings last month.

FRYE: You know, we've all been in those meetings when people are sort of just going through the motions. And this was not that type of a meeting.
Shivaram "rounded out the story" with Utah state Rep. Andrea Ramos, who "was at a roundtable with Harris and other Latina state lawmakers back in August." Ramos said Kamala's message resonated: "It was really, for me, not only a call of action for abortion access and what we could and couldn't do but really a call of action just to, you know, remind people this is the midterms, but there's a lot at stake."
What happens if the Democrats that Kamala visited all lose? We can guess All Things Considered won't consider that, either. You can listen below.
NPR's lack of consideration of an opposing viewpoint is supported in part by….you, the American taxpayer. Feel free to contact NPR Public Editor Kelly McBride and tell her that their show title is deeply silly.
Continue Reading at Newsbusters.