Reid Claims Swalwell Sleeping With Chinese Spy A Right-Wing Conspiracy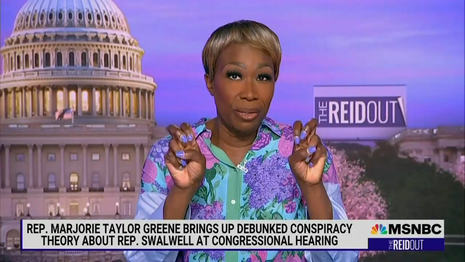 On MSNBC's The ReidOut, host Joy Reid returned to one of her favorite Republican targets in the United States Congress: Marjorie Taylor Greene. The source of her rage this time was Greene's comments during a House Homeland Security Committee hearing where she pointed out that her colleague Eric Swalwell (D-CA) was reported to have slept with a Chinese spy. Despite the allegations being legitimate enough to have him booted off the House Intelligence Committee, Reid still insisted it was nothing more than a "right-wing conspiracy theory."
"You have Congress members like Marjorie Taylor Greene who are using their taxpayer funded time to turn committee hearings into total clown shows," Reid proclaimed.
"Yesterday, during a Homeland Security hearing, Greene was silenced after repeating a debunked right wing conspiracy theory that a Democratic colleague is having an extramarital affair with a Chinese spy, while also calling the Homeland Security Secretary a liar," Reid huffed before airing a clip of Greene lashing out a Swalwell.
REP. MARJORIE TAYLOR GREENE: That was quite entertaining from someone that had a sexual relationship with a Chinese spy. And everyone knows it. But thanks for entertaining—
Those comments led to a dust up between members of the committee over whether to strike her remarks from the Congressional record. A motion that reportedly failed.
Greene after being allowed to continue with her allotted time to question Biden's Homeland Security Committee Secretary Alejandro Mayorkas:
How long are you going to continue this outrage? Complete outrage! Where China is poisoning America's children, poisoning our teenagers, poisoning our young people. How long are you going to let this go on?
"Congresswoman, let me assure you that we're not letting it go on, we are fighting," Mayorkas interjected before Greene cut him off and called him a liar.
After airing that back and forth, Reid melted down. "Reports say that some Republicans were supposedly furious about that outburst, but Marge doesn't seem too scared of any repercussions."
"In fact, she doubled down on her obscene remark on the Twitters. Why should she worry? If there's one thing we learned from Kevin McCarthy's leadership, it's that there is no bottom, whether it's lying or racism or an insurrection, you can pretty much get away with anything under his leadership," Reid falsely huffed.
Continue Reading at Newsbusters.