The Green Energy Profiteering Scam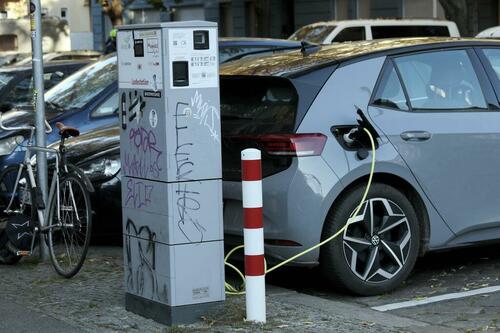 The Green Energy Profiteering Scam
Authored by JB Shurk via The Gatestone Institute,
In free markets, commodities bought and sold possess perceived value. When a buyer and seller reach an agreed upon price for any product, there is a "meeting of the minds." The value of any natural raw material is proportional to its scarcity. The more of it there is, and the more easily it can be obtained, the less value it holds. A vendor who sells ordinary rocks cannot make a living when his product is found freely all over the ground. If he transacts in gold or silver, diamonds or rubies, however, his hard-to-find "rocks" are worth a small fortune. If only there were a way to turn ordinary rocks into valuable commodities!
There are, in fact, two well-known ways to do so. An unscrupulous vendor could simply paint ordinary rocks gold and pretend that common minerals are rare, and an unsuspecting customer might never be the wiser. Through fraud, the seller can hijack the perceived value of his goods and undermine the agreed "meeting of the minds" between himself and any deceived customer. His "precious" rocks actually hold no value but provide him with ill-gotten gains. Over time, however, this type of fraud does not last. More discerning customers eventually catch on to the ruse, and that information is shared among prospective buyers. And unless he is quick to move on to a new town with new buyers yet to be deceived, old swindled customers are likely to end his livelihood or much worse. Engaging in fraud comes with serious personal risks.
There is another, safer way, however, to turn ordinary rocks into valuable commodities. The vendor could petition the king of the realm for the exclusive right to gather and sell ordinary rocks. If granted such an
Continue reading The Green Energy Profiteering Scam at ZeroHedge.