The New Face of Homelessness? Joe Biden Says He Can't Go 'Home, Home'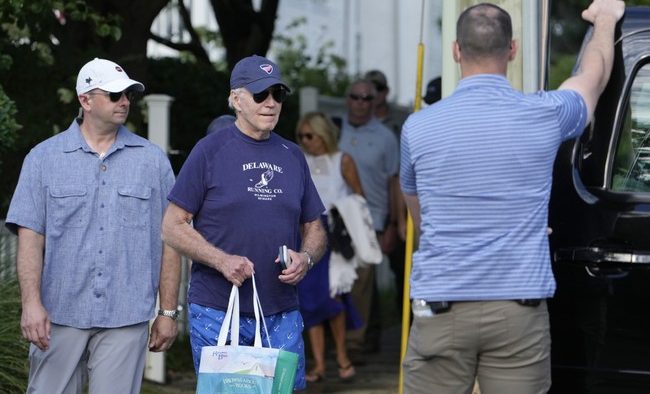 They say you can't go home again, and President Joe Biden is, apparently, no exception to this. Sure, he's got those fancy digs at 1600 Pennsylvania Avenue, but that's for the work week. While the president has been criticized for the amount of time he's spent on vacation while ostensibly serving as leader of the free world, there's a new report indicating that the real reason Biden has been spending so much time at his Rehoboth Beach, Delaware, house is that his Wilmington, Delaware, home is being renovated.
Unprompted, Biden approached reporters Sunday in Rehoboth Beach, Delaware, after he went to Mass at St. Edmond Roman Catholic Church to say he was not on vacation.

"I have no home to go to," said Biden, who lives at the White House on weekdays and spends most weekends in Delaware, where he has two homes.

The U.S. Secret Service has been doing work on his longtime primary residence in Wilmington, Delaware, to make it more secure "in a good way," he said.
There's no word yet on exactly what "work" the Secret Service might be doing on the Wilmington residence — or why it needed to be made "more secure."
Here's a bit of background on the Wilmington compound:
In 1996, Biden purchased four acres of secluded, lakefront land in the upscale suburb of Wilmington, Delaware, and built this 6,850-square-foot home. According to Zillow, the lot was purchased back then for $350,000 and the property is now estimated to be worth more than $1 million, though a real estate expert put that figure closer to $2 million. During his vice presidency, he rented out a cottage on the property to the Secret Service for $2,200 a month. When his son Beau was battling brain cancer, Biden considered selling the house to help pay for treatments but was discouraged from doing so by President Barack Obama, who offered to lend him the money instead.
Continue Reading at Red State.