THREAT TO TRUMP?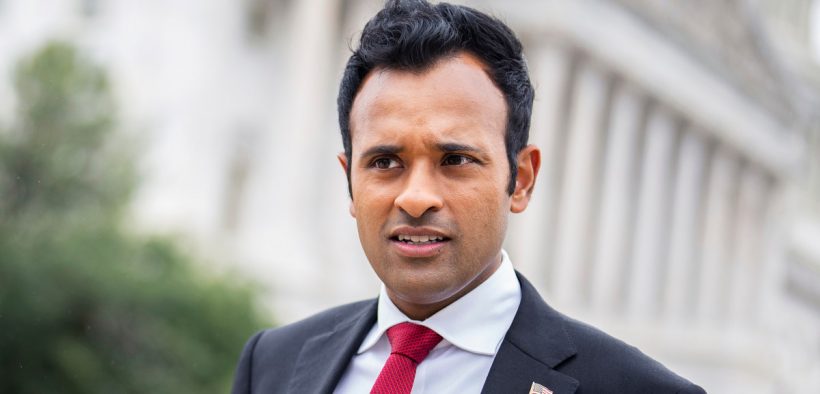 Vivek Ramaswamy has been one of Donald Trump's staunchest advocates among his Republican presidential rivals. But on Friday, Ramaswamy broached a topic he has recently tried to avoid: why he's a better choice in 2024 than Trump.
At a steakhouse town hall in Cedar Rapids, Iowa, the 37-year-old biotech entrepreneur made the case that Trump may be too polarizing to advance the Republican agenda.
"Here's a reality about my friend, Donald Trump," Ramaswamy said. "I respect what he did, but it's just a fact, it's not even his fault — 30 percent of this country becomes psychiatrically ill when he's in the White House.
"I don't think we will have that same effect on people, and that is how we go further with our own agenda," he added.
Ramaswamy nodded at the shift in the party coalitions since 2016: "Think about girls identifying as boys as a problem in this country, you got Republicans starting to identify as Democrats."
Ramaswamy's comments provided one of his clearest contrasts yet with the former president. He went on to differentiate himself from Trump on their plans to end the war in Ukraine.
"Trump has said he'd end the war in 24 hours without saying how. I'm going to give you a very clear plan of exactly how we'll do it," said Ramaswamy, before talking about freezing the current lines of control, committing to never letting Ukraine into NATO and requiring Russia to exit its military alliance with China.
The change in Ramaswamy's tone comes amid a recent surge in polling. Ramaswamy is right in the middle of the race for third place in national polling of the GOP primary, according to the FiveThirtyEight polling average. He's sitting at 6.8% in the latest average, up more than 4 points in the last month.
Trump, meanwhile, remains comfortably in front of the pack.
These recent jabs are new for Ramaswamy. Just last week, at the Turning Point Action Conference in West Palm Beach, Fla., he spoke just hours before the former president and said, "There are people in this race who are deeply upset with me for not criticizing my chief opponent in this race, Donald Trump. And I will tell you, I'm not running against anybody in this race. I am running for our country."
Ramaswamy was pressed again to make his case against Trump on Fox News recently but he declined.
"There are other Republican candidates who may have grievances against other candidates like Trump, and are in this race to air those grievances," Ramaswamy said. "I'm not."