Jimmy Carter Asks Person Who Replaced Him As Worst US President To Give His Eulogy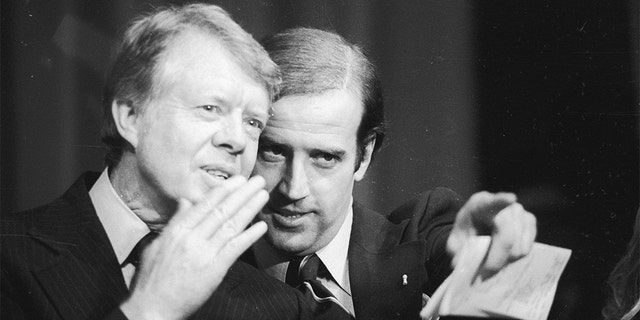 As former President Jimmy Carter lives out his final days at home with his family, he revealed that he wants Joe Biden to deliver his eulogy at his funeral
100 Percent Fed Up reports- Carter, who is the longest-lived US President at age 98, has suffered a series of health issues in the last ten years, including a cancer diagnosis that he eventually recovered from.
Recent announcements by his family and healthcare providers indicate that Carter has only days left to live.
The Carter Center publicly announced in February that the former President would spend his remaining days in hospice rather than attempting medical interventions to improve his condition.
Biden was an early supporter of President Carter's, being the first US Senator to endorse Carter, who was something of a political outsider before he won the Democratic nomination and eventually the Presidency.
Biden accidentally revealed that he would be delivering Carter's eulogy and shared private details about his health during a private Democratic fundraiser.
'Excuse me', he added, 'I shouldn't say that'.
Biden made the comments while discussing a breakthrough in cancer treatments and urged people at the fundraiser to increase funding for the efforts.
Newsmax Reports–
President Biden says former President Jimmy Carter asked him to deliver the eulogy at his funeral when he dies. https://t.co/aQq90c0U01

— The Washington Times (@WashTimes) March 14, 2023
President Joe Biden says he has been asked by former President Jimmy Carter, who is under hospice care, to give his eulogy when he dies.
Biden's comments came Monday at a Democratic National Committee fundraiser and were attributed to a White House pool report. His remarks were reported by multiple news outlets, including CNN.
"He asked me to do his eulogy – excuse me, I shouldn't say that," Biden said at the fundraiser in Rancho Santa Fe, California.
"I spent time with Jimmy Carter, and it's finally caught up with him. But they found a way to keep him going for a lot longer than they anticipated because they found a breakthrough."
CNN reported that Biden was likely referring to Carter's cancer fight in 2015.
Last month, a statement by the Carter Center said that after a series of short hospital stays, the former president "decided to spend his remaining time at home with his family and receive hospice care instead of additional medical intervention," according to the Associated Press.
The statement said the former president had entered home hospice care in Plains, Georgia.
Continue Reading at Gateway Pundit.