Presidential candidate Nikki Haley heckled by Trump supporters at CPAC: 'We love Trump!'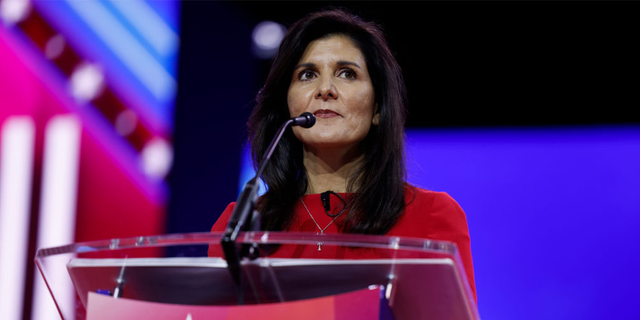 Presidential candidate Nikki Haley was heckled by former President Donald Trump's supporters after her speech at the Conservative Political Action Conference on Friday.
Haley, former South Carolina governor and former ambassador to the United Nations under Trump launched her candidacy for president last month and will challenge her ex-boss for the Republican nomination in 2024.
Her speech at CPAC on Friday was delivered to a small crowd of Republican attendees. And as she was leaving after giving her remarks, Trump's supporters began shouting at her their praise for the former president.
"We love Trump! We love Trump!" a crowd was heard chanting as Haley walked the halls of the hotel in National Harbor, Md., that hosted the annual gathering of conservatives.
Some supporters of Haley responded to the Trump supporters' heckling with shouts of "Haley!"
Haley eventually escaped with staff to an elevator after signing a few autographs and taking selfies with some CPAC attendees.
Haley was one of two declared Republican presidential candidates and entrepreneur Vivek Ramaswamy to deliver speeches at CPAC on Friday. Former Secretary of State Mike Pompeo, who is presumed to launch his campaign in the near future, also addressed the crowd. The former president is scheduled to speak on Saturday.
The CPAC crowd has consisted overwhelmingly of Trump supporters in recent years, as evidenced by CPAC straw polls conducted at the end of each year's conference
A recent WPA Intelligence survey found Haley had the third-most support in a hypothetical 2024 GOP primary, with 8% of people selecting her as their preferred candidate. In the poll, Haley fell well behind Florida Gov. Ron DeSantis, who received 44% support, and Trump, who was the preferred presidential nominee of 31% of respondents.
Continue Reading at Fox News.