Both PBS Pundits Scold Democrats to Back 'Successful' Biden in 2024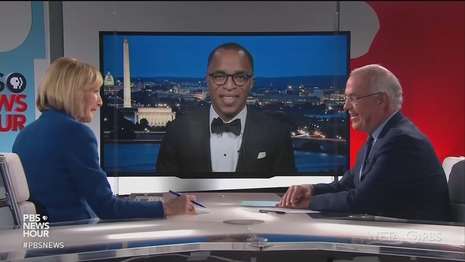 In just the latest evidence that the PBS NewsHour has a Friday night panel of liberal echoes, their pundits Jonathan Capehart and David Brooks completely agreed that Democrats should stop being a "big pain in the rear end" and back "successful" President Biden for a second term in 2024.
Anchor Judy Woodruff relayed new results from their NPR/PBS/Marist Poll, that while Biden has a 43 percent approval rating, only 35 percent of Democrats want him to be their nominee in the next election. By contrast, 45 percent of Republicans wanted Trump to be the GOP nominee. Capehart said Trump's number suggests Democrats should not underestimate his strength, but the Democrat number annoyed him.
CAPEHART: As for President Biden, the fact that 35 percent of Democrats want him to run for reelection doesn't tell me a whole lot, because Democrats have been wringing their hands about President Biden since the man took the oath of office.

And I just would like for all of them to chill out. He's just two years into the first term. Let the man do his job. And when he does his job, as we have seen over this last year alone, the dude gets stuff done. So, stop the hand-wringing, let him do his job, and let him decide whether he's going to run for reelection, which I think he will.
Woodruff then asks Brooks for his opinion, and surprise! They're unanimous.
BROOKS: Yes, I'm sort of with Jonathan. I — Democratic voters can be a big pain in the rear end.

I mean, the guy has passed a lot of legislation. He has masterfully orchestrated a war in — or the Ukrainian effort against Russia. He's just more or less won the midterms. What more do you want? I mean, so he's older than some people. But he's had a successful presidency, as far as I can tell. And this is not just about Joe Biden and Joe Biden's age. This is something in the DNA of the Democratic Party I have never really understood, why they can't be loyal to guy who is like their guy.
Woodruff summarized with amusement: "All right, we heard it from both of you: Chill, and why can't you settle — calm down?"
Brooks ended the segment by vaguely supporting Kevin McCarthy for Speaker, in that he at least campaigned and raised money for House Republicans, while other candidates did not. "And so there's a rise of almost nihilism in the party that — people who just won't be team players. And if you are not willing to serve the institution, not willing to serve your party, you're undermining your party in a big way."
Continue Reading at Newsbusters.